Design Through the Decades – part 44
Flooring in Phoenix homes over the decades was kept fairly simple: pretty much carpet and tile (vinyl or ceramic).  In the 2000s, Phoenix homes had a wide variety of flooring materials and styles.
Ceramic tile was the favorite floor material in the 2000s.  The 8″ tile of the 1980s and the 12″ tile of the 1990s were too small.  16″ tile was the minimum in the 2000s, with some homes going to 24″ tile.

Grout lines were more narrow in the 2000s.  And grout was lighter in color.  The effect was that you could squint your eyes, and the floor would appear as one large tile.

Another Phoenix home with large ceramic tile.
Placing the ceramic tile on a diagonal costs more money to install, but creates a more dramatic look.

Diagonal tile can make narrow areas look wider.

Travertine tile carried over from the late 1990s into the 2000s.

Travertine tile is beautiful, but it is a porous tile and requires sealant.

If you wanted to go the extra step, travertine or ceramic tile was laid in a Versailles pattern.

Here's a 2005 Scottsdale home with a Versailles pattern tile floor.

For those homeowners with extra money to spend, mosaic inlaid tile patterns added a "wow" factor to flooring in the 2000s.

Another example of inlaid tile.

Slate tile continued its popularity from the late 1990s into the early 2000s as seen in this 2000 Phoenix home.

The biggest change to flooring was the emergence and popularity of wood floors in the 2000s.  Phoenix's weather and concrete foundations do not lend themselves to real wood plank floors, so laminate wood flooring was used as seen in this 2004 home.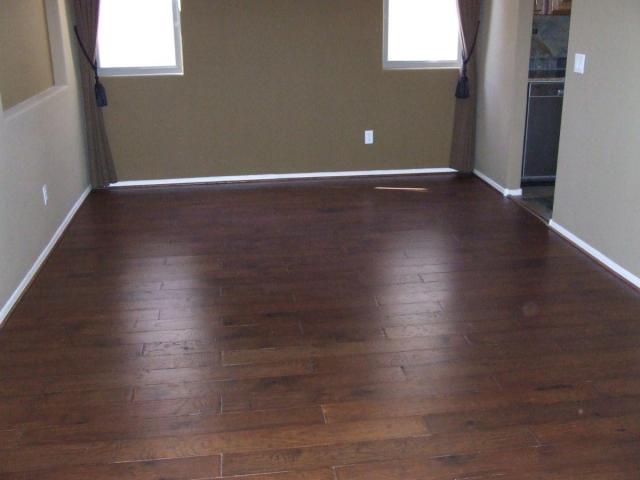 All varieties of shade and wood type were available.

Wood laminate flooring could be found in all rooms of Phoenix homes.

Different sheens were available too.

Bamboo wood flooring was very trendy in the 2000s and lauded for being "eco-friendly."  This is a 2002 Phoenix home.

Bamboo flooring was still being used in 2008 and will likely continue into the 2010s.

Floor tiles made of cork was used in the 1950s and made a reappearance in the 2000s.  This is a Scottsdale home built in 2000.  Cork flooring was found in kitchens and bathrooms too.

Of course, carpeting never goes out of style.  Plush carpeting was popular in the 2000s.  Carpet color trended toward darker tans and browns in the 2000s.

Flooring Trends For the 2010s:  terrazzo floors and carpet tiles.  Terrazzo counter tops already showed up in Phoenix kitchens in the 2000s.  Terrazzo flooring, already found in commercial buildings and retail stores today (and many decades ago), will likely appear in Phoenix homes in the 2010s.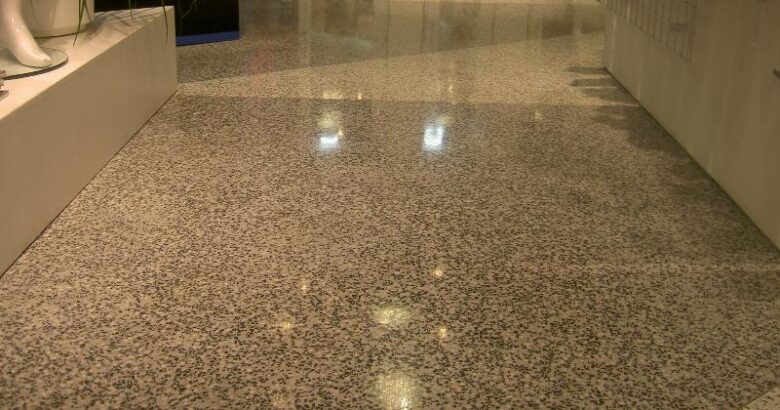 Carpet tiles (usually 24″) have gained in popularity in commercial buildings and in hotels.  They are usually peel-and-stick or placed down with an adhesive.  If there is a spill, the affected tile square can be unpeeled, cleaned, and returned.  Expect to see carpet tile take off in popularity in the 2010s in Phoenix homes.  A few examples.

There are hundreds of carpet tile patterns & textures to choose from.  From plush carpet shown above to a more flat industrial style seen in this modern kitchen.

If home design in the 2000s has copied design elements from the 1950s, will homes in the 2010s take note of 1960s designs?  Will flooring in the 2010s move away from the darker tans & browns of the 2000s and include brighter colors instead?