Design Through the Decades – part 76
Home décor and interior design in Phoenix homes in the 1990s were mostly about color (or lack of color) and Southwest motifs.
Let's start with Southwest décor since it defines the 1990s so well (or so bad).  Here's a Southwest themed bedroom with brass headboard and brass lamps.

Kokopelli figures and dream catchers were very trendy in the 1990s in Phoenix.  Add a little Southwest pink paint too.

More kokopellis.  A whitewash entertainment center with smoked glass doors was very popular in the 1990s.

What would the 1990s be without howling coyotes and cow skulls?
This Phoenix homeowner went a little too far with the Southwest décor.
Another example of Southwest decorations with another kokopelli.
1990s was the age of sage.  Sage green, that is.

Pale green paint and flower pattern sofas were found in many Phoenix homes in the 1990s.

Marine blue, aquamarine, teal, and any other combination of blue-green or blue-gray were very 1990s.

If you didn't care for greens or blues, white seemed like the only other color choice in the 1990s.  Navajo white, especially.

White on white was a common design in the 1990s.  White paint and whitewashed cabinets and white countertops.

Faux paint changed from splash & brush strokes & mixed colors in the 1980s to rag rolling and sponge painting to resemble stone, marble, or natural elements.

Faux paint to resemble an old stucco'd wall.

Shiny bedspreads became popular in the late 1990s.  Note the sage green accent wall.

White on white décor in this 1990s bedroom.

Great rooms became such a popular design element in 1990s homes, but their size required large furniture.  Huge sectional couches helped fill the space.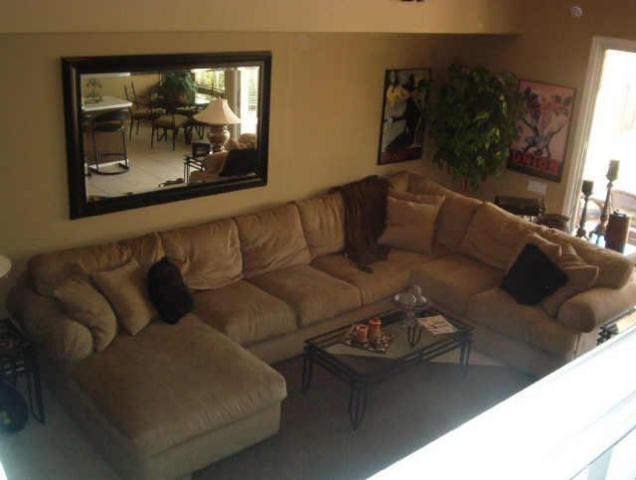 Back to the Southwest décor in this bedroom.  Note the heavy wood armoire, which was found in nearly every Phoenix home in the 1990s.  These armoires would eventually become functionally obsolete by the mid 2000s as Phoenicians traded in their analog TV sets for flat screen TVs.  Nowadays, you can't give these armoires away.

Coming Up:  What will interior design and home décor look like in the 2000s?