The UglyHousePhotos Awards for Worst/Most Disgusting/Filthiest Home will be chosen by our readers.  Enjoy these ten appetite-destroying candidates for your consideration.
***WARNING:  Might cause dry heaves or worse***
Note: Full disclosure:  Not all of these were of homes for sale; if you're a true purist, it could affect your vote.
The first five candidates were from homes for sale.
SPEW: Somewhere in Texas.  An angry homeowner destroyed his own home to get back at the bank.  This is what buyers got to deal with.  If you want to see more about this damaged home, click here.
ROACH POOP: Phoenix.  I took this photo of a horrible, dreadful home.  The bathroom cabinet was removed, leaving behind an outline spotted with roach poop.  That's gross.
RAT POOP: Same Phoenix home as the Roach Poop above.  The stove burners were filled with rat feces.  Wretchingly disgusting.  To see more awesome photos of this home, click here and not as disgusting here.
DOG POOP: Phoenix.  Dog feces on the carpet.  The seller was too lazy to pick it up? Disgusting.
DIRTY TOWEL: Phoenix.  We are really hoping that's rust stains on the towel.  Otherwise, g-r-o-s-s.  Don't people have any shame?
The following homes were not for sale at the time of the photos:
ROTTEN EGGS:  Somewhere in the United Kingdom.  I think we're all united in saying this kitchen is disgusting.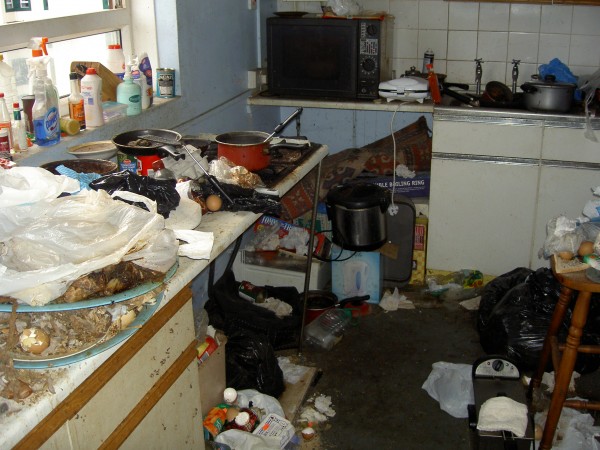 KITCHEN NIGHTMARE: Location unknown.  Not even Gordon Ramsey would touch this kitchen nightmare.  Disgusting.
FILTHY BATHROOM: Houston, Texas.  Beyond disgusting.  Imagine the smell!
CIGARETTES:  Same Houston, Texas home as the Filthy Bathroom above.  What a lazy ash-hole.  Sorry for swearing, but this is truly disgusting.  To see more horrible photos from this butthead's Houston hovel, click here.
CAT LADY:  Location unknown.  Animal hoarder living in filth.  A real cat-tastrophe.
Vote for your favorite Most Disgusting Home here: