…tore down this wall.
Four dining rooms in need of staging assistance.
Everything's within reach of the dining table, at least.  [Phoenix]
Eating area next to the kitchen.  Supposedly.  [Phoenix]
It is what it is.  [Camden, New Jersey]
Snow globe collection and many other items.  [Rice Lake, Wisconsin]
Timely coincidence?  We posted some photos of Camden, New Jersey homes on Sunday, June 24, and now on Tuesday the 26th, the website TheDailyMail posts this article about the decay of Camden.  Read it here (lots of photos of homes).
Uh, you might want to wash your hair once in awhile.
Please let us help you with your cluttered kitchen.  It will only take 10 minutes.  But the ceiling will take a bit longer.
She has twins.  Driven to drink?
Is it safe to put plastic on a stove?
Same house, more clutter.  Who's on the calendar?  Must be some teen TV show.
Demon Hunter!  Project 86!  [Glendale, Arizona]
Reel Big Fish!  [Chandler, Arizona]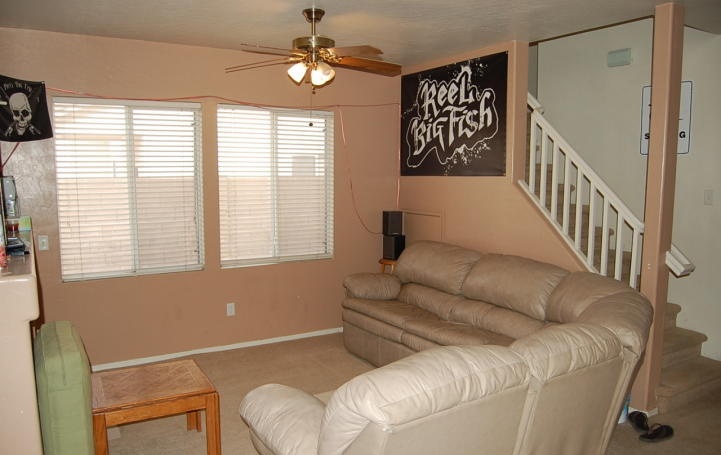 Sorry for the profanity.  Skate video poster in Glendale, Arizona.
Got a neglected damaged sink cabinet?  Easy fix.  Just keep the doors closed.  Outta sight, outta mind.
Over in the bathroom, slap on some paint and you're done.
Got mold or mildew in a bathroom?  Cover it up with wallpaper or paint over it!
If anyone complains, tell them this is done on purpose as a tribute to the video game Tetris.
What roof problems?
It's a skate park!
The pool will be just fine once you fill it up.
Is this a loft in the Sistene Chapel or an attic bedroom in a Cadillac, Michigan home?  Justin Bieber poster.  You heard about his recent visit on the Letterman Show? (a talk show).  He referred to the Sistene Chapel as the Sixteenth Chapel.  He's Canadian, you know  😉
The old rule of thumb was to place all of your furniture against walls.  Here's a good example from Tempe, Arizona.
Home decorators nowadays suggest floating furniture away from walls to make a room feel bigger.  It also makes it hard for guests to talk to each other without shouting when all the seating is so far away.
Pushed up against the walls in Keene, New Hampshire.
Adding an extra bathroom to your home can add value.  Except when it's done by amateurs and installed in a garage!  Yep, in the garage.  It also has a door lock as if anyone would walk in on him/her.  Is there a water supply, is there proper drainage, is there a vent stack, is there ventilation, is there lighting, was a building permit obtained?
Two belts, a watering can, and a broom.  We won't ask if you don't tell.  Camden, New Jersey home.