October 17th, 2011 · 6 Comments
Maybe a tad over done with the fireplace design?
Big sectional couch.  Looks like the living room.  Or is it?
Nope, it's the master bedroom, according to both photos' captions.  Maybe they invite people over to watch them sleep?
October 17th, 2011 · 5 Comments
Buyers have an eye for detail, so let's show them close-up photos of the house.
A close-up of a corner.  Houston, Texas.
Close-up of grass.  Another Houston home.
A close-up of wall trim.  Yet another Houston home.
Close-up of a wood floor.  Oklahoma City, Oklahoma.
One of my friends has a high-powered job in Phoenix and is well respected.  He recently had dinner with a rich friend who asked him, "Why are you living in Phoenix?  There's no life there.  And no culture there."  He criticized Phoenix as a nothing city.  Nothing interesting. Boring.  Why would anyone live there?  He told my friend to move out of Phoenix as soon as possible.  He told others at the dinner table that anyone who lives in Phoenix is not a mover or a shaker.  No companies are headquartered in Phoenix.  He said people just lead boring lives in Phoenix.  And he ended his tirade with a question, "How can you be mentally stimulated in Phoenix?  There is no culture.  How do you find intelligent people?"
I guess I've got it all wrong for living in Phoenix.  I've been missing out for over 40 years.  Wasted my life here.  This pretentious snob, by the way, lives in Houston, Texas.
So let's see what Houston has to offer.  Like this Houston home that's currently for sale.  Looks like it's oozing with culture and life.
Just like the fans gracing the walls, I've become a fan of Houston.  I wanna be a mover and shaker in Houston too!!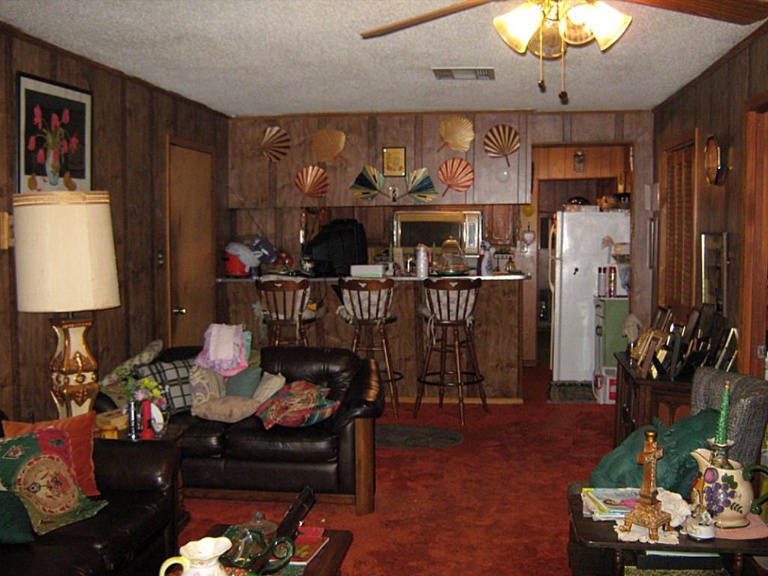 October 16th, 2011 · 4 Comments
According to the hoity toity, Houston is full of life and culture.  And fine dining!  They have the best baked beans in the country.
Gourmet kitchen too.
Can't wait to move in here!
I've decided that this de-sided home is what Houston's all about.  I've been a fool for living in Phoenix so long.  Houston, here I come!
October 16th, 2011 · 4 Comments
Remember, Houston, Texas is filled with life and culture.  Please consider moving to Houston and buying one of these eight delightful homes.
Ooh, I like this one.
This one's great too.
So many wonderful choices.
It's hard to pick just one.
I'm so confused.
I love them all.
That's it.  I'm selling my Phoenix home and moving to Houston so I can have culture.
October 15th, 2011 · 7 Comments
This Phoenix home could use some updating.  Ugly green carpet soiled and worn out over the decades.
It was fashionable at one time to have green carpet?
Wallpaper border stuck to the kitchen cabinet drawers.  Worn-out flooring.  Bric-a-brac back splash.
Wood paneling!  Tres chic.
More wood paneling.
October 15th, 2011 · 4 Comments
Is it too much to ask to throw out the garbage before taking the real estate promotional photo?
October 15th, 2011 · 6 Comments
Why is there a horse blanket in the master bedroom?
October 14th, 2011 · 4 Comments
Sellers seem to really like displaying hats when selling their homes.  Please make it stop.
Phoenix.  Enough is enough.  Notice the liquor bottles next to the bed!
Mesa, Arizona.  Only five hats hanging up?  Amateur!  Would Marilyn Monroe approve?
Alexandria, Louisiana.  In case you go huntin' at 4am and don't have time to shower first.
Owensboro, Kentucky.  She put a clothesline up in her bedroom and hung the hats there.