Design Through the Decades – Part 8
We've looked at the exterior architecture of Phoenix homes in the 1950s, 1960s, 1970s, 1980s, 1990s, and 2000s.  Now it's time to look at typical kitchens of Phoenix homes starting in the 1950s.
Wood cabinets, particularly made of ash, were very popular in Phoenix kitchens in the 1950s.  The beautiful wood grain was brought out with a honey laquer finish.  From 1950.

Wood cabinets dominate this 1951 Phoenix kitchen.  However, dishwashers weren't available back in the 1950s.

Metal cabinets were an alternative to wood cabinets as seen in this 1951 kitchen.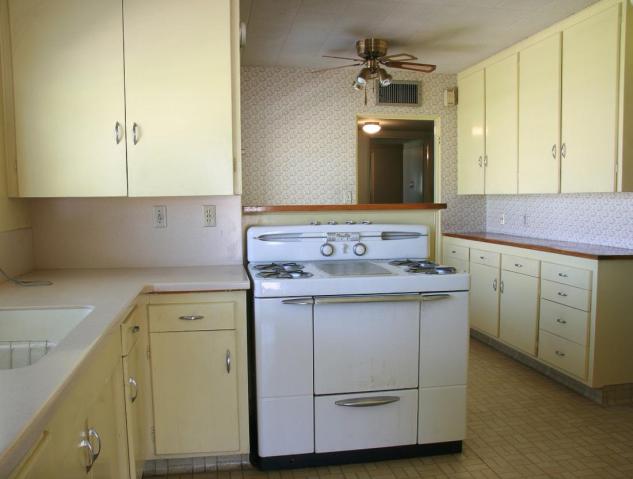 A 1952 kitchen with colored tile counters & backsplash.  [Home actually located in Glendale, AZ, not Phoenix]

1955 Phoenix kitchen with wall-mounted faucet.

Ovens & ranges were available as separate appliances as seen in this 1958 kitchen.

1959 kitchen.  As we approached the 1960s, kitchens became more u-shaped with lots of upper cabinets.  Homeowners in the 1990s and 2000s began tearing out the hanging upper cabinets in their older homes to allow better views in/out of kitchens as we'll see in upcoming posts.

Unknown date of home.  Wood doors and wall-mounted sink.

Beautiful honey wood grain cabinets and colored tile.

Original cabinets and colored tile counters with updated appliances.  4″ tile on diagonal was very popular.

The kitchens in the Phoenix area in the 1950s were not that different from kitchens around the United States.  Let's take a look at national advertisements in the 1950s.
Formica counters were gaining in popularity.
1952 Formica ad.  Check out those country style cabinets!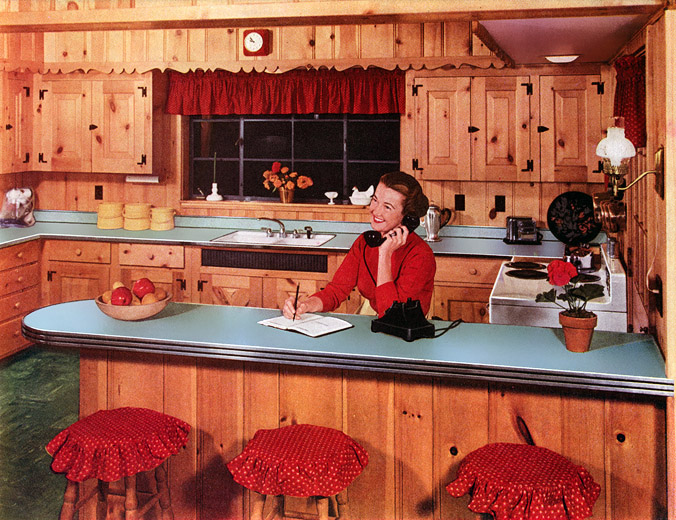 1955 ad with integrated wood handles.

1955 ad for metal cabinets by Jones & Laughlin Steel.

1957 ad with an open kitchen floor plan.  Very modern for the 1950s.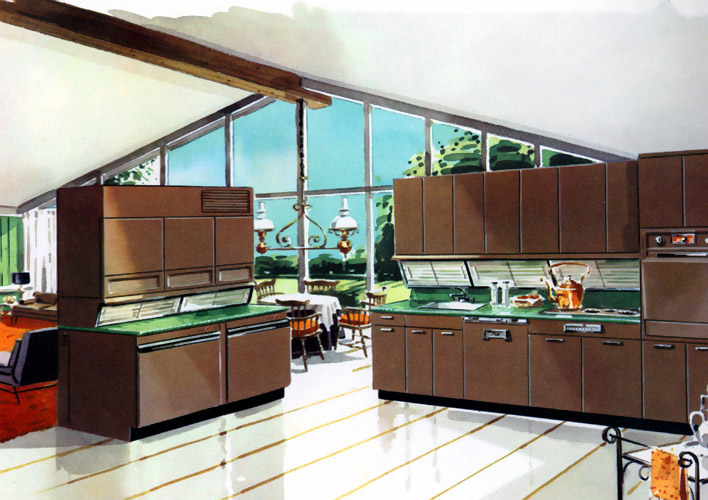 1957 ad with metal cabinets.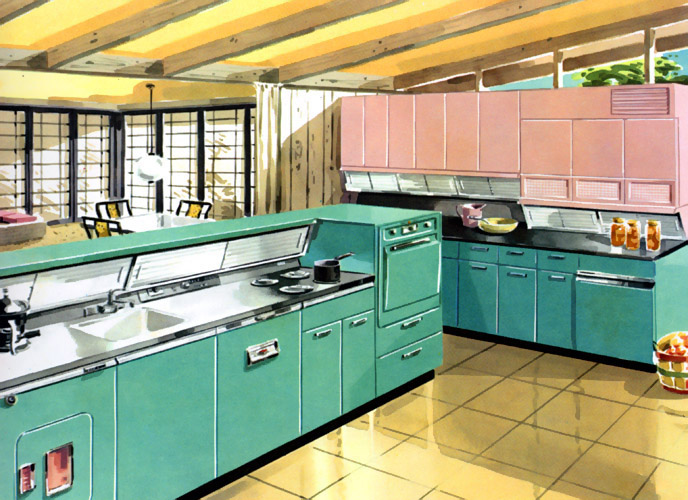 1957 Frigidaire's Kitchen of the Future.  Interesting note: we'll see in a future blog how kitchens in the 2000s look similar to this style.

1959 ad for the Tappan "Fabulous 400" pull-out range.  When you're done, you push in the range.

1959 Hotpoint appliance ad.  Note the small mosaic tile backsplash and floating exhaust hood, two design elements that make a serious comeback in the 2000s.

1956 ad for Formica counters.