Zen Studios has been developing pinball games since essentially the developer's inception in 2007. Their latest free-to-start game, Pinball FX, has released on all current and last-gen consoles. We've knocked some virtual balls around for a bit, and have arrived with our Pinball FX PS5 review to see if there's anything new and noteworthy this time around.
Shiny coats of paint
Pinball FX represents a reboot of the series which originally began life on the Xbox 360 in 2007. This pinball simulator has been rebuilt using the Unreal Engine 4, which means 4K support and more realistic physics than ever before. At this point, though, the physics involved in pinball games have been all but perfected, because consoles have had more than enough power to calculate accurate-enough physics involved for at least the last generation or so. Still, utilizing this engine does mean that ray tracing is available on the PS5, which is turned off by default. A simple visit to the settings menu allows the player to choose between a performance or quality graphics mode, though in practice it'll be difficult to tell the difference between the two modes. Regardless as to which mode is chosen, the game runs very smoothly, with no stuttering to note no matter how busy a particular table gets.
Naturally, the PS5's zippy SSD means each table loads in just a few seconds. In fact, the longest load time is encountered when first booting up the game, as the game seems to check in to Zen Studios' servers or otherwise appears to wait on some process before letting you get on with playing your tables. The DualSense controller is used for vibration, and that's about the extent of console-specific use.
Controls for Pinball FX are dead simple. The right stick controls the table's plunger, and you can vary how hard the ball is launched by tiling the stick back slightly as opposed to completely downwards. The cross button can also be used on tables that have a single launch speed, or to make choices when on an in-game mission as most tables include. Any shoulder button or trigger can be used to use the flippers, with no use of the adaptive triggers (it really wouldn't make sense here as you need the flipper to react as soon as you press it). The left analog stick can be used to nudge the table, though of course doing this too frequently will cause most tables to lock up. Triangle toggles between eight built-in views, plus a special manual camera option which allows the player to set the camera's height to whatever level they deem is most useful.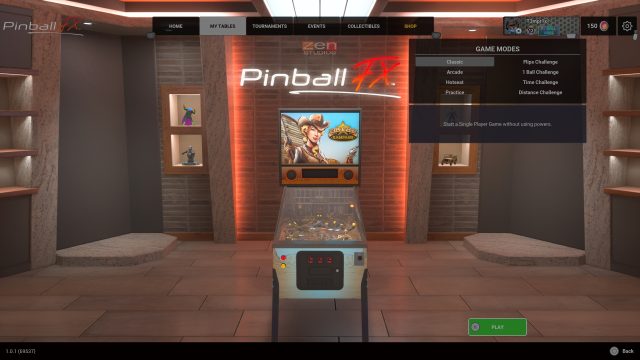 A mode for every mood
For each table, there are multiple modes to choose from. There is classic, which grants you three balls to start with, as you try to score as many points as possible before you run out of attempts. An arcade mode lets you use power-ups, including slowing down time or certain actions granting more points. One active power can be used with the square button, while two passive abilities factor in to how the tables behave, such as extending the amount of time before a combo opportunity expires. Hotseat allows for up to four players to compete against each other, while a practice mode grants you a whole hour of free play time to hone your skills as much as you can. Four other modes limit your play in ways such as number of flips, time, distance, or ball count.
There are also a couple of online options, such as tournaments which are real-time competitive matches where everyone tries to score the most points over a limited amount of time, number of tries, or some combination thereof. You can easily create your own tournament using a table that you own in just a few steps. There is also an Events tab, which features seasonal challenges across free and premium tables. Each day, you are given a certain amount of tries to complete some objective on a table. Complete it, and you'll be rewarded one or more coins, which are used to track progress and earn time-limited unlocks such as collectibles or items to customize your player banner.
Tables are selected from a basic main menu, inside a special customizable room. Each table features various collectibles which can be earned by reaching various milestones in that table's objectives list. These are usually little figurines related to the game, such as a sheriff's star badge or a model stagecoach from the included freebie table, Wild West Rampage, or a Mysterio figure from the Spider-Man table. These are surprisingly well-detailed miniatures, and whenever the game is left running at the main menu it cycles through a couple of different camera angles so that you can see some of the things that you have placed down.
Pinball FX Review (PS5) – Is It Worth Playing? – PlayStation LifeStyle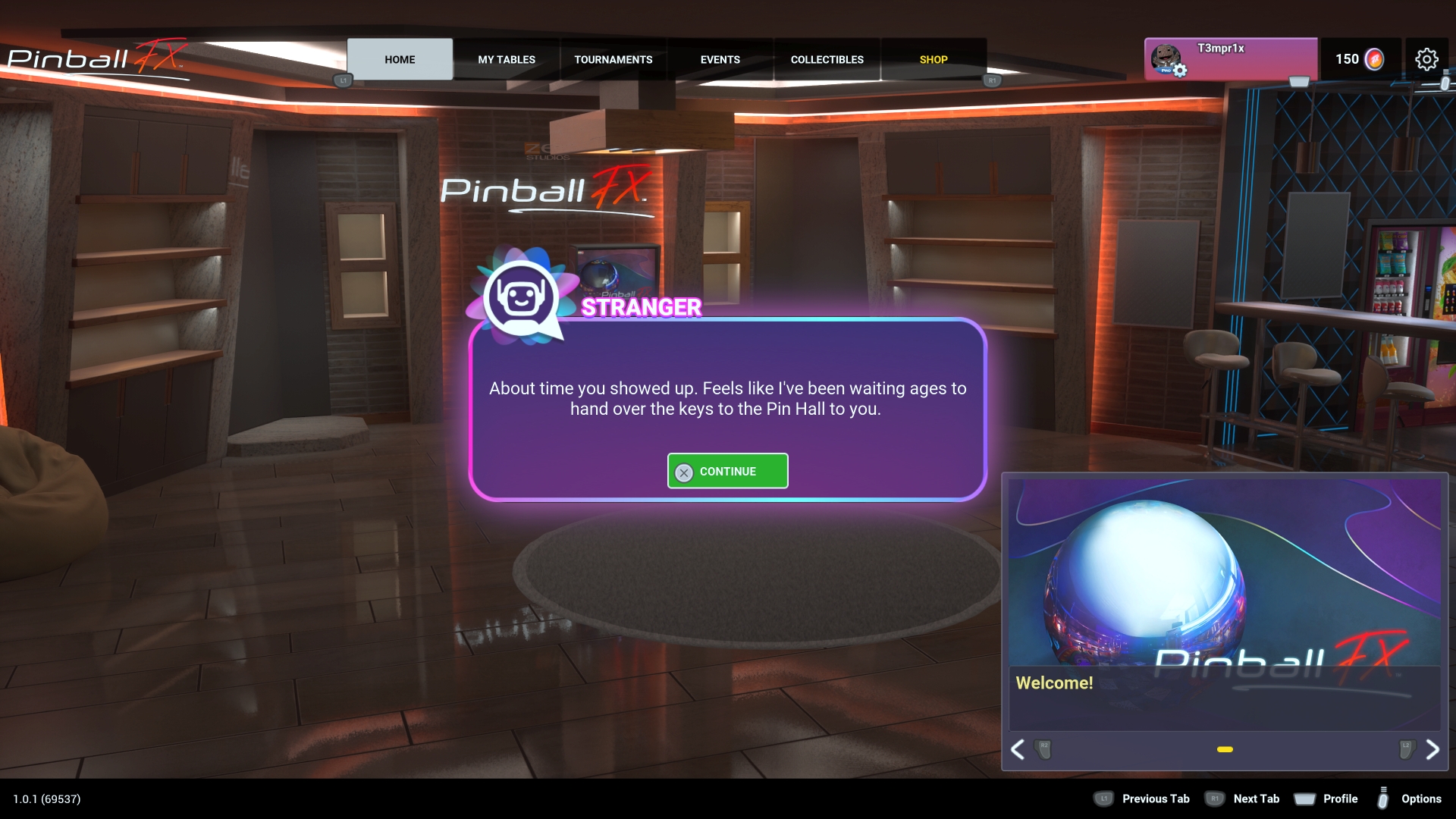 WATCH GALLERY
Questionable Monetization
One point of contention that long-time Zen Pinball fans may have lies in the game's inability to import previously purchased tables. It is simply not an option in Pinball FX, with Zen Studios saying "For the new Pinball FX, every single table in our library has been remastered, updated, and optimized in Unreal Engine to deliver the best pinball experience going forward." On the one hand, it's understandable that porting these tables over may have come at considerable cost to the company. But it's never a good look to charge a customer twice for the same thing, and this decision will likely anger some players.
Another issue that may irritate some can be found in Pinball FX's monetization scheme. There is a premium currency called Pinball Coins which are priced at about ten cents per each, naturally selling in bundles beginning with 100 for $9.99 and scaling up all the way to 1200 for $99.99. Those two amounts conveniently match the price of the Pinball Pass' one-month and 12-month subscriptions respectively. This is a season pass by another name, and grants the player unlimited plays of almost every table – the Indiana Jones and Marvel tables are not included, and must be purchased separately. The good news here is that these coins can only be redeemed for the Pinball Pass, as each table or pack of tables can be purchased for regular, fiat money and you won't have to worry about having some leftover currency in an amount that isn't quite enough to buy anything else.
Pinball FX is a top-tier pinball game with some growing pains inherent in switching development platforms. Having to re-buy your favorite tables is a pain, but considering these represent the best versions of dozens of tables, it is a good value overall. The Pinball Pass is Zen Studios' first attempt at something approaching a season pass, but thankfully it is not required and you can simply purchase the tables that you prefer using regular money. The core game remains solid, and hopefully Pinball FX is supported by Zen Studios into the next generation of consoles.
8.0

Fantastic pinball at its core
Dozens of tables to choose from
Ray-tracing for improved lighting
Pinball pass can get pricey
Die-hard fans cannot import previously-purchased tables
Graphics modes hard to distinguish