Everyone knows about that incredible PlayStation-exclusive Superman game on PS5 and PS4, right? Well no, we don't, and that's because it doesn't exist. Unfortunately, Microsoft's lawyers got their superhero Spandex in a twist and likely confused Spider-Man with Superman, with the error popping up in recent legal documents.
God of War and "Superman" are big PlayStation exclusives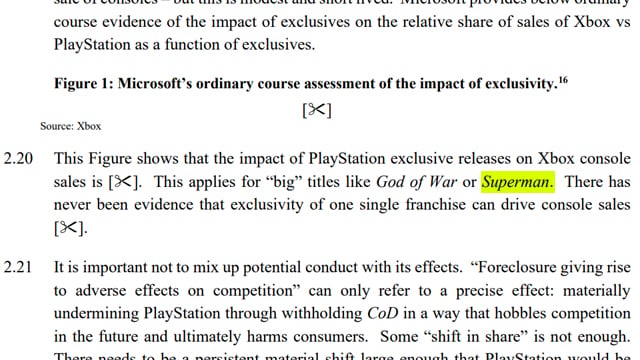 The error appeared in section 2.20 of "Microsoft's response to the CMA's Provisional Findings," the public, redacted version of which can be found here. Thankfully, The Last Son of Krypton's name is left uncensored, with the presumed typo standing out to any PlayStation fans.
Buy the PS5 God of War Ragnarok bundle for just $559
It's worth noting that "Spider-Man" appears three times in the document, with "Superman" only referenced once. Therefore, it seems like the mistake is just a typo.
For those who saw "Superman" and headed straight to the PlayStation Store with the hopes of downloading an actually good Superman game, I'm afraid you've likely been bamboozled by a simple typo.
The next time you're guaranteed to see Superman popping up in a video game is as a villain in Suicide Squad: Kill the Justice League, which could be delayed until 2024.
If you can't get enough of the battle between Sony and Microsoft over the Activision acquisition, here's the latest development.