It looks like PSVR 2 games will continue the tradition of releasing physically and digitally, both. It's a commonly-asked question that Sony hasn't officially answered yet, but an Amazon listing for The Walking Dead: Saints & Sinners Chapter 2: Retribution confirms that some games will also launch on disc.
Digital and physical PSVR 2 games will apparently cost the same
As spotted by Reddit user hybroid, The Walking Dead: Saints & Sinners Chapter 2 costs the same on the PS Store as well as on Amazon. Both the retailer and Sony's storefront list the Payback Edition for $49.99. You can take a look at the box art below: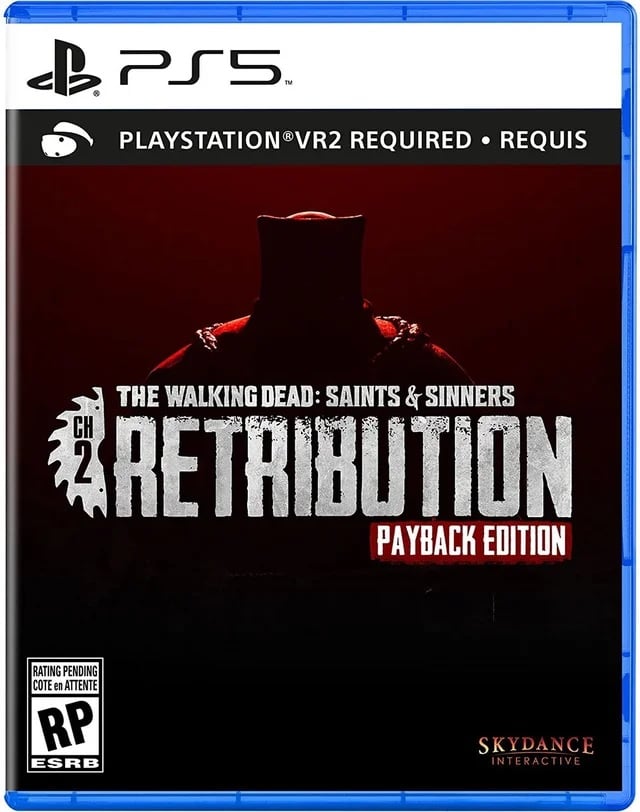 Not much to see here. Looks like your regular PS5 disc with a VR requirement sticker slapped on it.
Here's a list of PSVR 2 games confirmed thus far:
Affected: The Asylum
After The Fall
Afterlife VR
Aliens VR
Alvo
Altair Breaker
Among Us VR
Black Top Hoops
Black Trail
Cities VR – Enhanced Edition
Cosmonious High
Crossfire: Sierra Squad
Demeo
Distortion VR
Do Not Open
Dyschronia: Chronos Alternate
Engram
Fantavision 202X
Firewall Ultra
Firmament
Galaxy Karts
Ghostbusters VR
Ghosts of Tabot of Tabor
Golf+
Green Hell VR
Grimlord
Jurassic World Aftermath Collection
Hello Neighbor: Search and Rescue
Hellsplit Arena
Horizon Call of the Mountain
Hubris
Hypestacks
Kayak VR: Mirage
Kizuna AI – Touch the Beat!
LOW FI
Madison
Medieval Dynasty
Mixture
No Man's Sky
Pavlov
Pistol Whip VR
Project Lousianna: The Bounds VR
Propagation Paradise Hotel
Requisition
Resident Evil Village
Runner
Samurai Slaughter House
Shadowgate VR: The Mines of Mythrok
Soul of Kaeru
Star Wars: Tales from the Galaxy's Edge – Enhanced Edition
Super Kit: To the Top
The Dark Pictures: Switchback VR
The Exorcist Legion VR: Sin
The Light Brigade
The Tale of Onogoro
The Twilight Zone VR
Tentacular
The Walking Dead: Saints & Sinners – Chapter 2: Retribution
Ultrawings
Volcanic Core
Wandering in Space
Zenith: The Last City
You can now pre-order PSVR 2 via PlayStation Direct without an invite.