The Star Wars Jedi: Survivor leaks keep on coming, with Obi-Wan DLC and blaster combat teased. The game's Steam page was updated with new information about the sequel, which included details of the game's "Standard Edition." This edition comes with the Hermit Cosmetic, Hermit Lightsaber Set, and Combustion Blaster Set as pre-order bonuses.
Star Wars Jedi: Survivor Obi-Wan Hermit Cosmetics and Blaster Set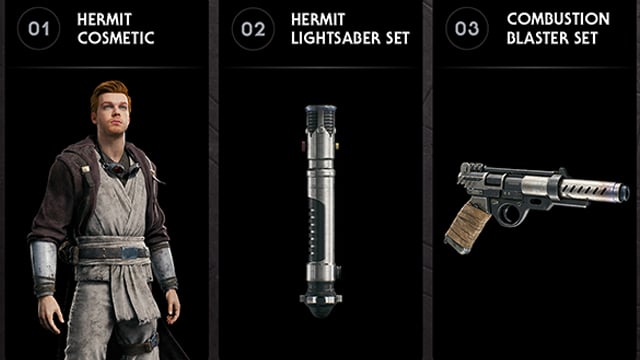 Leaked images show Obi-Wan Kenobi-inspired cosmetics including the Hermit skin, Obi-Wan's lightsaber, and the Combustion Blaster.
While the Obi-Wan crossover is exciting in its own right, it's the blaster that raises additional questions. Perhaps Cal Kestis is adding a blaster to his arsenal of weapons, in addition to his trusty lightsaber?
It's also possible that the blaster will be used by a second main character. That would see Cal use Obi-Wan's lightsaber, while the second character could arm themselves with the blaster.
Expect to see this pre-order bonus showcased more officially during The Game Awards which takes place on December 8.
If leaks prove accurate, Star Wars Jedi: Survivor is set to launch on March 16, 2023. When it releases, players will once again take on the role of Cal Kestis as he goes on adventures with his buddy bot BD-1.