Stray trophies and day-one update has been released ahead of the game's launch on PS Plus Extra/Premium on July 19th. The trophies look pretty straightforward, with the Platinum requiring a speedrun of under two hours, suggesting that Stray isn't going to outstay its welcome. The day-one update, which was found in the PSN backend, brings various fixes and improvements on the PS5 and PS4 both.
Stray trophies and day-one update patch notes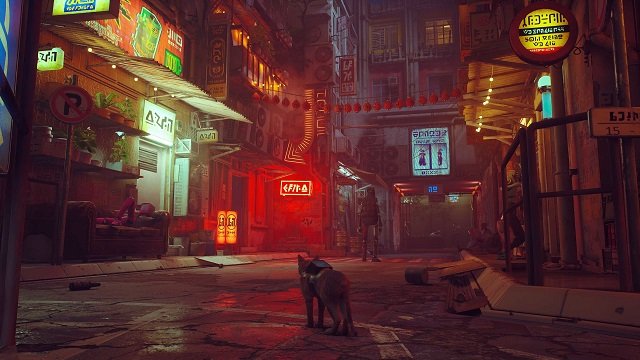 Trophy list (via Powerpyx):
All Done – Platinum – Unlock all trophies.
A Little Chatty – Silver – Meow 100 times.
Cat-a-Pult – Silver – Jump 500 times.
Productive Day – Silver – Sleep for more than one hour.
Boom Chat Kalaka – Bronze – Dunk the basketball.
Can't Cat-ch Me – Gold – Complete the first Zurk pursuit without being caught.
Sneakitty – Silver – Go through Midtown without being detected by the Sentinels.
No More Lives – Bronze – Die 9 times.
Scratch – Bronze – Scratch the vinyl in the club.
Pacifist – Gold – Complete the Sewers without killing any Zurks.
I am Speed – Gold – Complete the game in less than 2 hours.
Missed Jump – Bronze – Fall inside the city.
Not Alone – Silver – Meet B-12.
Cat Got Your Tongue? – Bronze – Have B-12 translate a robot.
Catwalk – Gold – Reach Midtown.
Al-Cat-Raz – Silver – Go to jail.
Eye Opener – Gold – Complete the game and open the city.
Meowlody – Silver – Bring all the music sheets to Morusque.
Curiosity Killed the Cat – Bronze – Wear the paper bag.
Cat-a-strophe – Bronze – Try to play mahjong with the robots.
Cat's best friend – Silver – Nuzzle up against 5 robots.
I Remember! – Gold – Gather all B-12 memories.
Télé à chat – Bronze – Browse through all of the TV channels.
Badges – Gold – Collect all badges.
Territory – Silver – Scratch in every chapter.
Patch notes (via PlayStation Game Size):
Improved navigation in various places
Made some game scripts more robust when reloading checkpoints
Improved audio during cinematics
Polished audio sounds and general mix in throughout
Small graphical tweaks and fixes
Improved localization in several languages
A LOT of collision fixes, naughty cat!
Supplemental vibration has been added throughout the game
Some Meows have been totally re-meowed
Stability has been improved during a few critical moments
Performance has been improved in a few demanding places
In other news, some of July's PS Plus Extra/Premium games have leaked, and Crystal Dynamics may be hinting at Gex and Legacy of Kain revival.