Following a recent delay, PC players will finally get their hands on The Last of Us Part 1 when it releases on March 28. There's just one catch: Those wanting to run the game at 4K 60 FPS with all of the graphics options set to Ultra will need the second-most powerful consumer-grade graphics card, the Nvidia RTX 4080, which has an RRP of $1,199.
The Last of Us PC needs an RTX 4080 to look its best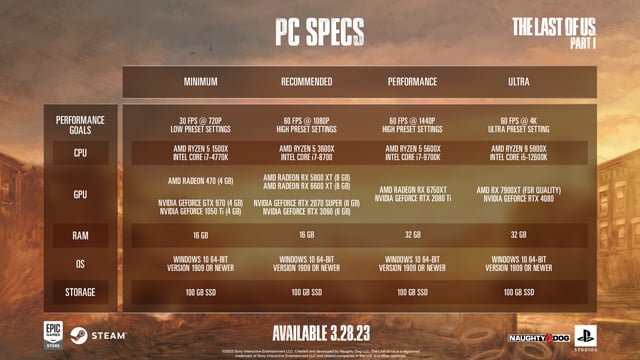 That's right, for The Last of Us on PC to look its absolute best, with all of the visual bells and whistles turned on, and without relying on FSR upscaling, an RTX 4080 is officially recommended.
It's worth noting that, at the time of writing, it's tough to find a 4080 for RRP. Instead, they can be found for closer to $1,400.
Of course, I should mention that PC players will be able to fine-tune the game's settings to suit their system configuration. For example, those with an RTX 3060 ($329) can enjoy 1080p at 60 FPS and High visual detail.
However, for those wanting the best of the best in terms of visuals, for the definitive The Last of Us Part 1 experience, the RTX 4080 is the way to go.
For those wondering if TLOU Part 1 is worth the price of admission, here's the PSLS review.