Announced during EVO 2023, the Victrix Pro FS and Pro FS-12 fight sticks have been revealed for PS5, PS4, and PC. Unlike the previous Victrix Pro FS released several years ago, these two new $399.99 premium sticks are Official Licenses Products for PlayStation consoles. Pre-orders are already available, and those who get in an order by August 19 will see them ship before September 30.
What are the features of the Victrix Pro FS and Pro-FS-12 fight sticks?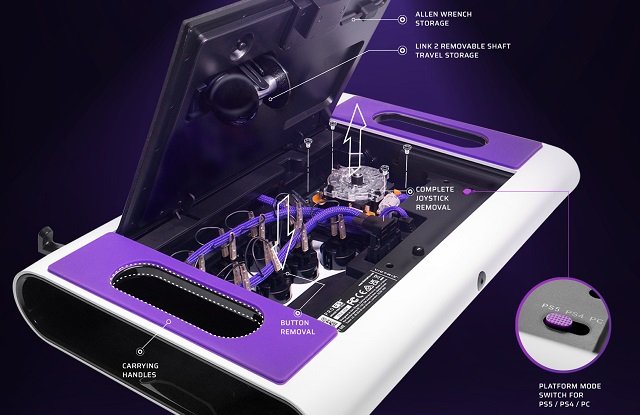 Coming in either white or purple color palettes, both peripherals will come with a joystick version and a hitbox-style version. For those who might be scratching their heads at the concept of a fightstick that doesn't actually have a stick, the hitbox-style controller uses four buttons for directional commands. With mastery, especially for tricky full-circle inputs like Zangief's signature grab, this can reduce the time it takes to input commands. A gold version of the Victrix Pro FS will be awarded to the top 3 finalists for each tournament at EVO 2023.
Both sticks boast Sanwa Denshi parts for reliability and responsiveness, and a 6.28-degree wrist slope for optimal wrist comfort. The back panel has a built-in foam pad that should absorb some pressure while it sits in your lap. The panel can also be easily lifted so that you quickly mod the peripheral however you see fit. A switch on the inside controls the stick's platform mode for PS5, PS4, or PC.
Some disappointments so far by some fans are that the sticks are only USB-C to USB-A and the fact that they're only $100 less than a PS5. They also don't seem to be too different from the Victrix Pro FS released earlier for PS4 that is compatible with the PS5.
PlayStation's Official Licensing Program gives licensees access to technical documentation and technical support during development. The OLP logo certifies that a peripheral or accessory meets SIE's standards. Currently, no Xbox version of these two fight sticks has been announced.
In other news, we delve into whether a survey at EVO 2023 really means that Sony is considering PlayStation NFTs, and a Square Enix acquisition is looking more likely with Sony as a potential buyer.