The Yakuza series is coming to PS Plus Extra and Premium soon. All of the Kazuma Kiryu saga and the latest game, Yakuza: Like Dragon, will be available before the end of the year. The games will be released in two waves, and we already know when the first three are coming. However, there's a catch which will have some players upset.
The first wave of Yakuza series hits PS Plus in August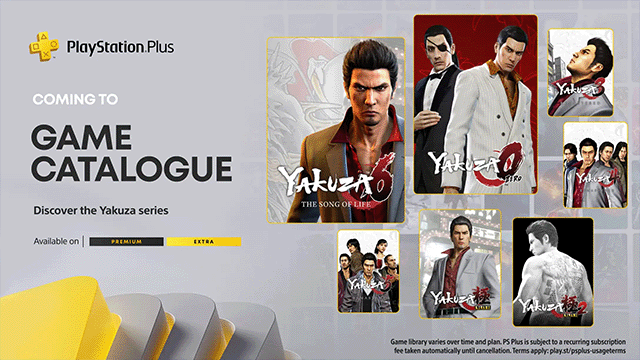 The first three games (chronologically) in the Yakuza series will release on PS Plus in August. There are:
Yakuza 0 – Extra/Premium
Yakuza Kiwami – Extra/Premium
Yakuza 2 – Extra/Premium
Yakuza: Like a Dragon will also be releasing on PS Plus in August and is available for all subscribers. Despite being the latest game in the series, it works rather well as a standalone experience. Those that are more interested in the turn-based RPG combat it brought to the franchise should have no problem starting with Ichiban's journey.
The rest of the series won't be available until "sometime in 2023." These titles are:
Yakuza 3 Remastered – Premium
Yakuza 4 Remastered – Premium
Yakuza 5 Remastered – Premium
Yakuza 6: The Song of Life – Extra/Premium
Like us, you'll probably immediately notice that Yakuza 3-5 are only available through PS Plus Premium. It seems a bit shady to hook players into the series by making the first three games available for Extra subscribers and then requiring platinum for the next three.
We hate to compare PS Plus to Game Pass, but Game Pass subscribers can access the Yakuza series for a flat rate of $9.99. However, if you want to play it on PlayStation, you'll need to pay $17.99, which is almost double. Hopefully, this isn't the beginning of a trend of Sony trying to push PS Plus subscribers into a higher tier.
Fortunately, if you don't want to upgrade for Yakuza 3, 4, and 5, the Yakuza Remastered Collection that bundles all three is available on Amazon for dirt cheap.
In other news, the KOTOR remake is on hold after Aspyr fires two directors, and GTA 6 is rumored to have a female protagonist.
[Source: PlayStation Blog]