A Plague Tale: Requiem Collector's Edition is now available for pre-orders, with a trailer revealing the game's release date of October 18, 2023. Exclusive to the Focus Entertainment Store, the Collector's Edition costs $189.99 and comes with numerous collectibles including a resin statuette of Amicia and Hugo. It is available for PS5, Xbox Series S, and PC (Steam).
What comes with A Plague Tale: Requiem Collector's Edition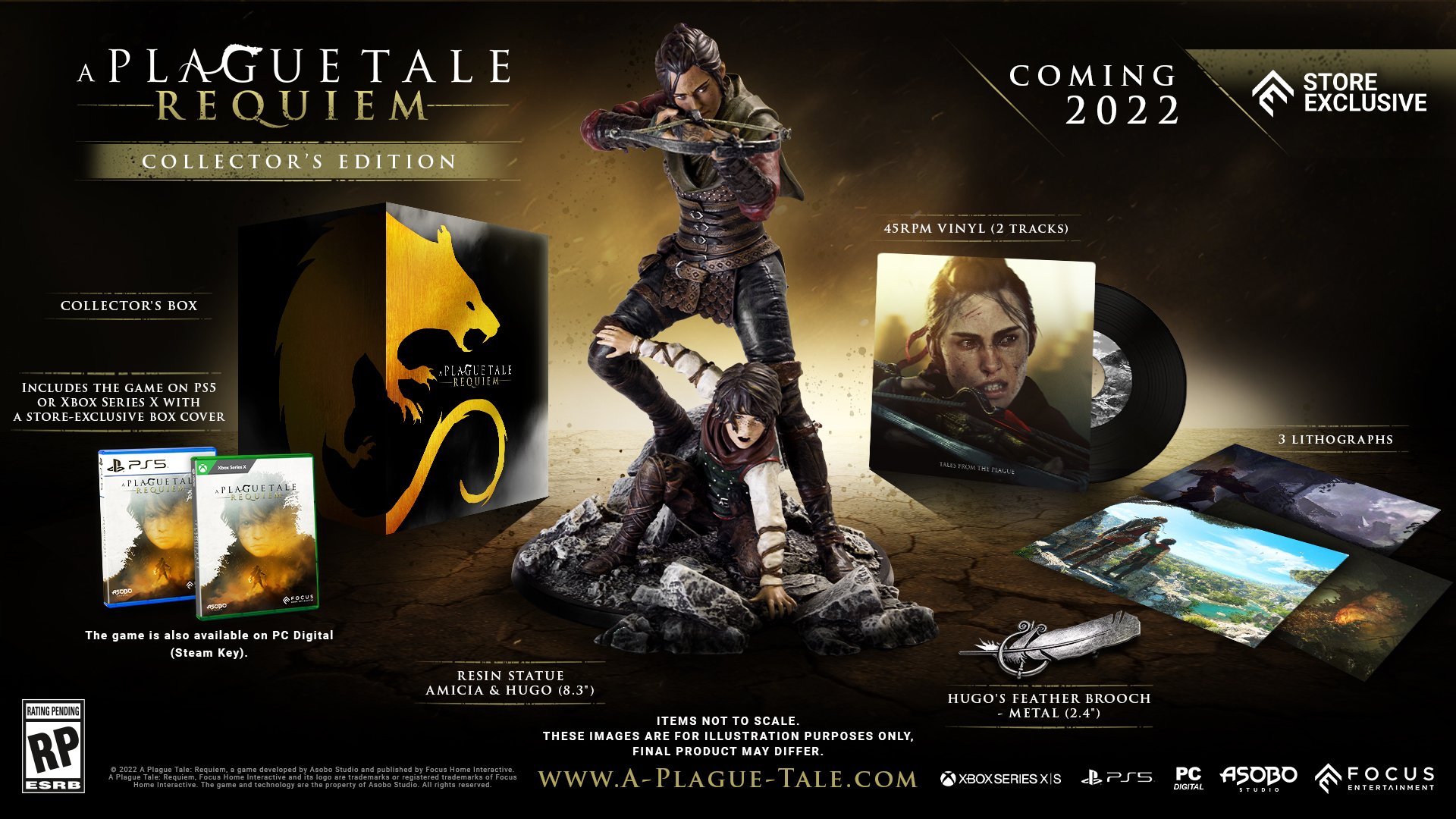 The Collector's Edition comes with four exclusive items no matter which platform you choose:
A 21cm/8″ resin statuette of "Amicia & Hugo" in their iconic costumes in the game, detailed and painted by Asobo Studio
A 45rpm vinyl with two tracks composed by Olivier Derivière
Three "A4 illustrations" lithographs of the game
A metal Hugo's Feather brooch inspired by the feather ornaments that Hugo wears
Those who pre-order A Plague Tale: Requiem Collector's Edition for PS5 or Xbox Series X will receive the physical versions with exclusive alternate cover art. The PC version comes with a digital Steam activation key instead.
Both the Collector's Edition as well as the physical PS5 or Xbox Series X standard version of the game comes with The Protector Pack. This will come with The Red Damsel crossbow skin, bonus crafting materials, and thirteen exclusive cosmetic options for Amicia.
News of the pre-order comes alongside an extended trailer for the game that confirms the October 18 release date, debunking an earlier leak of a June 17 release date.
At the time of this writing, the Focus Entertainment Store has a 80% off sale on the standard edition of A Plague Tale: Innocence, slashing the $39.99 price tag to only $7.99. It was announced in March that A Plague Tale would be turned into a TV series, as confirmed by Mathieu Turi, the assistant director on Quentin Tarantino's Inglourious Basterds.
In other news, PS Plus upgrade issues have caused some players to be charged several times for the service, and DICE has no plans for any games outside of Battlefield.