You've probably heard that Activision Blizzard games are frequently among the best-selling third-party titles, particularly the Call of Duty franchise, on PlayStation platforms. And now we have a chart that backs this up, showing how five of the publisher's games are listed in the Top 20 for the highest monthly daily active users around the world on PS5 in August 2023. This certainly adds a lot of context and clarity behind Sony's concerns over Microsoft's pending acquisition of Activision Blizzard.
Call of Duty games appear four times on the list for PS5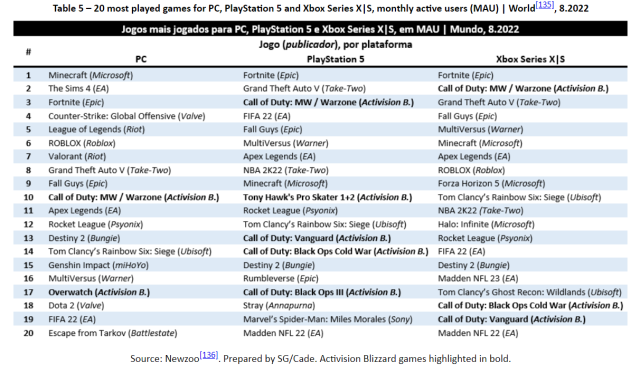 The chart above comes from the analytical site Newzoo and was prepared by CADE, the regulatory authority in Brazil, which recently approved the merge between Microsoft and Activision Blizzard. It shows that Call of Duty games appears four times, along with Tony Hawk's Pro Skater 1+2, in various positions. Three of those Call of Duty games also appear in the column under Xbox Series X|S games.
As expected, Call of Duty Modern Warfare and Warzone are high on the list in third position, only falling behind Fortnite and Grand Theft Auto V. Vanguard, Black Ops Cold War, and Black Ops III still hold strong as well, filling out the bottom half of the Top 20 list. Tony Hawk's Pro Skater 1+2 sits in tenth position.
Taken altogether, it's no wonder that Sony is fighting tooth and nail to prevent the merge from happening, stating last month that it welcomes the UK's decision to investigate the deal.