Horizon Forbidden West was released back in February and fans have been speculating when we may be getting DLC ever since. Of course, Horizon Zero Dawn had a sizeable expansion in the form of The Frozen Wilds, so it's a decent assumption to make for the sequel. Speculation has now picked up again after a now-deleted Tweet from Sylens' actor teased he was working on Horizon Forbidden West again, possibly for DLC.
Could Horizon Forbidden West DLC be in development?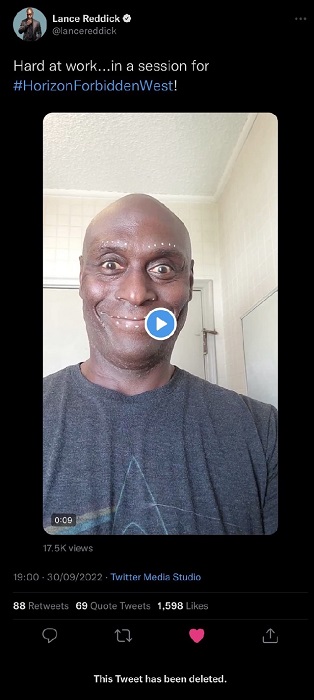 Developer Guerrilla Games has not announced any DLC for Horizon Forbidden West so far, although there have been plenty of content updates that have included new features such as New Game+. There have been hints previously that DLC could be in development for the game when one of Aloy's motion capture artists, Peggy Vrijens, was photographed back in the studio with Louis Van Beek, who provides voices for numerous characters. The latest tease comes from the voice and face actor behind Sylens, Lance Reddick.
In a now-deleted Tweet, which was captured nonetheless by Reddit and can be seen above, the actor confirmed he was in the middle of a session for Horizon Forbidden West. You can watch the short video clip on Streamable too. The only reason for that would seemingly be DLC, or at least that's what we're hoping. Previous speculation has suggested DLC could take place in some of the unused or off-the-map areas of the game, like the ruined fortress at the edge of the map to the east of Plainsong, as well as a strange unused area of water to the south of Latopolis. Whatever it is, hopefully we find out soon enough.
In other news, Google Stadia was supposed to get an exclusive horror game from Hideo Kojima but they canceled it. Elsewhere, Dragon Age: Dreadwolf will be suitable for franchise newcomers and Dragon Age veterans.