Marvel's Spider-Man Remastered will be released on PC next month and Sony has revealed the pre-order bonuses and PC specs that are available in the new version of the game. In addition to this, the PC version will get extra features like improved graphics and multiple peripherals and customization options.
Marvel's Spider-Man Remastered PC features
At the announcement of Marvel's Spider-Man Remastered on PC, Sony promised the game would be "fully optimized for PC" to include adjustable render settings, ray-traced reflections, and other features to be revealed at another time. Those features have now been revealed and they include NVIDIA DLSS, NVIDIA DLAA, a wide range of display ratios, cloud saves, achievements, and multiple peripherals and customization options. Players can choose to use a DualSense controller for adaptive trigger feedback and haptic response, or they could use other controllers or a mouse and keyboard, most of which can be remapped if using Steam Input support. The graphics features include:
Ray-traced reflections are available across the game for those with hardware that supports them.  Reflections also have varied quality levels, one of which is a new, higher-quality ray-traced mode that offers even more city detail when web-swinging and fighting crime in Marvel's New York.
NVIDIA DLSS (Deep Learning Super Sampling) increases graphics performance using dedicated Tensor Core AI processors found only on GeForce RTX GPUs, boosting frame rates with uncompromised image quality.
NVIDIA DLAA (Deep Learning Anti-Aliasing) is an AI-based anti-aliasing mode for GeForce RTX gamers who have spare GPU headroom and want higher levels of image quality.
Beyond choosing output resolutions, we also support a wide range of display ratios, including ultrawide 21:9, panoramic 32:9, and NVIDIA Surround multi-monitor setups.If you've got three monitors, we've got the game for you to show them off with!
Many other rendering systems are more customizable than they have been in the past, with additional quality levels and algorithmic options. These include SSAO, texture filtering, LoD quality, shadows, and more.  We support windowed, full screen, and exclusive full screen rendering modes.
After all that, you may be wondering if your PC's hardware will support the game. Sony has provided a handy guide that goes from the very minimum the game needs to run to the ultimate ray tracing graphics.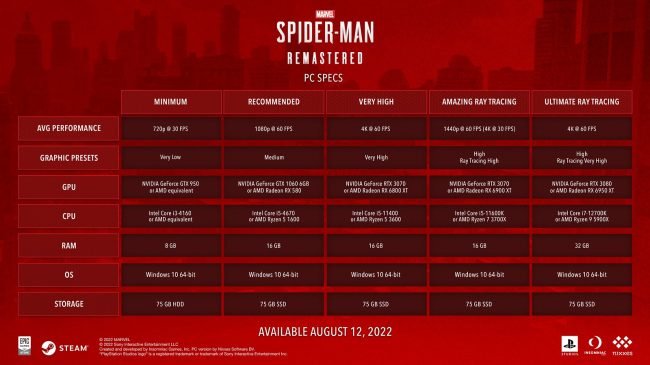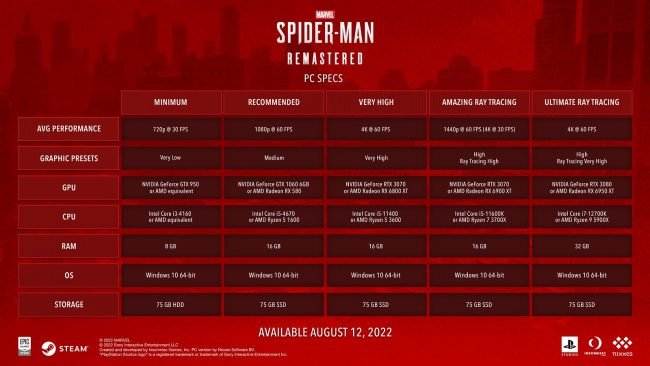 Those who pre-purchase Marvel's Spider-Man Remastered on PC through Steam or Epic Games Store before it is released on August 12 will receive a handful of pre-order bonuses, including early unlocks for the Spider-Drone combat gadget and the Spidey Suit Pack: Iron Spider Suit, Spider-Punk Suit, and the Velocity Suit. Players will also get five extra skill points to spend.
In other news, Sony has partnered with Spin Master to create toys based on their biggest PlayStation games. Elsewhere, the Cole's Legacy exclusive DLC for Infamous Second Son is now available for free on the PlayStation Store.