MultiVersus Season 1 launched today and with it came the game's inaugural Battle Pass, although the latter is already causing controversy over its Gleamium rewards… or lack of them. As players need to purchase premium currency Gleamium to get the Battle Pass in the first place, players were hoping to recoup some of that through rewards, but this isn't the case.
MultiVersus Season 1 Battle Pass rewards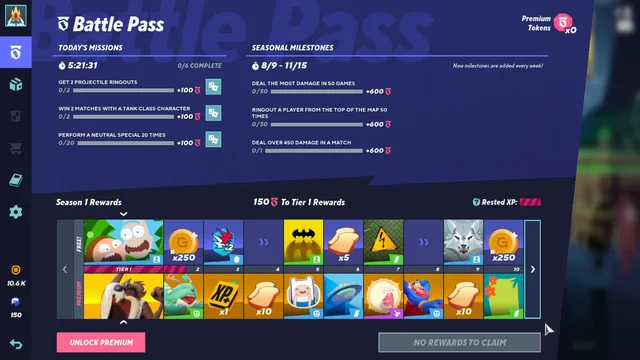 The MultiVersus Season 1 Battle Pass includes 50 levels of new rewards for players to unlock, including character variants, taunts, stickers, banners, toasts, XP boosts, and more. The full list of rewards for the season 1 Premium battle pass are:
Variant – Taz Tune Squad '96
Taunt – Reindog Yawn
XP Boost
Toasts x10
Sticker – Finn Happy
Banner – The Daily Planet (DC Comics)
Ringout VFX – Sun Scream (Rick & Morty)
Taunt – Superman Hover
Toasts x10
Banner – Mystery Inc (Scooby-Doo)
Variant – Harley Quinn Task Force X
XP Boost
Banner – House Stark (Game of Thrones)
Toasts x10
Sticker – Harley Mad
Taunt – Iron Giant Tease
Banner – Jinkies! G-G-Ghost! (Scooby-Doo)
Ringout VFX – Green Lantern Finish (DC Comics)
XP Boost
Variant – Flashback Garnet
Banner – Merry Melodies (Looney Tunes)
Taunt – Shaggy Kung Fu
Toasts x10
Banner – Wonder Woman (DC Comics)
Ringout VFX – Gossamer (Looney Tunes)
XP Boost
Banner – The Caped Crusader (DC Comics)
Toasts x10
Taunt – Steven Universe Wipe Gem
Sticker – Jake Sweat
Banner – The Man of Steel (DC Comics)
XP Boost
Toasts x10
Ringout VFX – Gem Bubbles (Steven Universe)
Banner – Leader of the Pack
Sticker – Velma Surprised
Taunt – LeBron James Silencer
Sticker – Batman Neutral
Ringout VFX – Mushroom Explosion
Toasts x10
Banner – A Universe of Potential
Variant – Detectives Tom & Jerry
Ringout VFX – Say Your Prayers, Varmint! (Looney Tunes)
Taunt – Jake Dance
Sticker – Bugs Bunny Hearts
Taunt – Harley Quinn Mallet Pose
Toasts x10
Banner – Boo-t of Armor (Scooby-Doo)
Ringout VFX – Deploy Batwing (DC Comics)
Variant – Brunhilde Bugs Bunny
The one type of reward that is missing from the MultiVersus Season 1 Battle Pass is Gleamium. Traditionally in games that have a Battle Pass, players face an initial cost to purchase the Battle Pass. However, throughout the season they can then earn enough Premium currency or points to be able to trade those for the next season's Battle Pass. This means those who play the game the most won't have to keep paying out for future Battle Passes. MultiVersus seems to have shunned this. The game's Battle Pass can only be purchased using Gleamium, yet there is no Gleamium anywhere in the reward list above, meaning players will have to buy more premium currency to get future Battle Passes.
This has caused controversy amongst players who are disappointed MultiVersus isn't following a premium currency pattern similar to games like Fortnite and Call of Duty. However, others have leapt to defend the pass, pointing out its $10 cost that's spread over four months and the high Gleamium value of all of the other rewards players receive across the 50 levels of the pass. Developer Player First Games has yet to make a comment.
In other news, Marvel's Spider-Man Remastered on PC offers more evidence of PSN account integration for PC games. Elsewhere, the Fortnite x Dragon Ball crossover trailer has leaked.