The Multiversus Early Access period begins tomorrow, July 19, and the game's PS5 and PS4 trophy list has gone live in preparation for complete cartoon chaos. As can be expected, the list of trophies is identical for both platforms, but it hits at a lot of playtime and grinding if players want to grab the Platinum for this free-to-play brawler.
Multiversus Trophy List for PS5 and PS4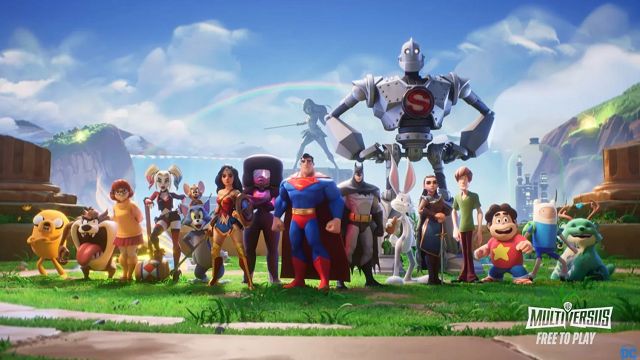 The Multiversus trophies were actually unveiled during the closed alpha but have only just gone live on the PlayStation servers as shown by Exophase. There is a total of 29 trophies, including a Platinum Trophy, and they're fairly generic. Players need to give toasts to other players, win matchmade games, and get ringouts in a variety of ways. Those set to take the longest include tasks like playing 500 matches in a party, accepting 100 rematches, and winning 300 matchmade games. You can see the full Multiversus trophy list below.
Multiversus Platinum Trophy
Trophy Master – Earn all other Trophies to collect this Trophy
Multiversus Gold Trophies
Toast Master – Give out 100 toasts to other players
Bun-Puncher Supreme – Get 100 ringouts
The Throne Is Yours – Win 300 matchmade games
And Your Little Dog, Too! – Get 100 double ringouts
Ground Floor: Ringouts – Get 100 ringouts using your downspike
Distanced Damage Dealer – Get 200 ringouts with a projectile
Party Animal – Play 500 matches in a party
Multiversus Silver Trophies
Nice Speech – Give out 10 toasts to other players
You're Getting Pretty Good At This – Get 50 ringouts
Proving Yourself – Win 100 matchmade games
Ringouts Are Better In Pairs – Get 25 double ringouts
Going Down? – Get 50 ringouts using your downspike
Catch This – Get 50 ringouts with a projectile
Life of the Party – Play 100 matches in a party
Multiversus Bronze Trophies
Credit Where It's Due – Give out 5 toasts to other players
Run It Back – Accept 100 rematches
Matchmaker – Play 1 matchmade game
You Mean Business – Get 30 ringouts
Stepping Out – Win 10 matchmade games
Bring A Friend – Get 10 double ringouts
Watch Your Step – Get 10 ringouts using your downspike
Aerial Specialist – Get 10 ringouts using the top of the blastbox
Southpaw Specialist – Get 10 ringouts using the left-side of the blastbox
Rightie Specialist – Get 10 ringouts using the right-side of the blastbox
Spike Specialist – Get 10 ringouts using the bottom of the blastbox
Watch Your Head – Get 20 ringouts with a projectile
Social Butterfly – Play 25 matches in a party
Signature Slammer – Get 10 low damage ringouts
In other news, Playstation 1-to-1 Twitter support will end on August 1. Elsewhere, CD Projekt RED has lost a significant amount of market value since the disastrous launch of Cyberpunk 2077.