Sony has shown off plenty of marketing images for their upcoming PSVR 2 headset, but one thing that has been conspicuously missing in those images is the cable. A leaked photo from an indie studio has now given us a better idea of the PSVR 2 cable length as well as the bundle contents players can expect to find in the box with their headset.
PSVR 2 bundle contents and cable length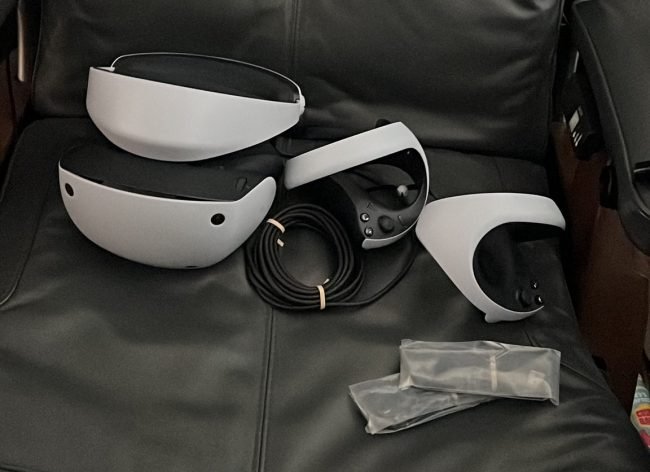 Sony has yet to announce a cable length for PSVR 2, but the cable appears to be longer than the 4.4m length of the original PSVR cable according to the leaked photo above (thanks Reddit). We already knew there wouldn't be a breakout box but there's also a lack of volume control box on the cable too, which suggests volume control may be through the headset itself just like the second version of PSVR.
The photo also shows the Sense controllers will come with wrist straps. Aside from the PSVR 2 headset and two Sense controllers, the bundle also seems to include a couple of other cables. The first looks to be a USB cable, possibly for charging the Sense controllers. It's difficult to make out the contents of the second bag, but it could be a second USB cable or it could be standard earbuds to use with the headset. PSVR 2 will not have onboard sound, instead choosing to have a 3.5mm stereo headphone jack so players can use headphones of their choice.
The indie studio that leaked the photo on Twitter has since taken it down. However, Bit Planet Games did repost the news they were bringing Ultrawings 2 to PSVR 2 alongside a stock photo of the headset. Somehow, though, I think their news may have gotten a little lost amidst the contents of their original tweet.
In other news, QA Studio Quantic Labs has denied allegations of mismanagement that allegedly meant problems within Cyberpunk 2077 went undetected. Elsewhere, Skate 4 will get another closed playtest at the start of next month ahead of a proper reveal.