Serious Sam: Siberian Mayhem was released exclusively on PC in January, but it seems like that exclusivity period may soon be coming to an end. The Entertainment Software Rating Board (ESRB) has rated Serious Sam: Siberian Mayhem for PS5 although neither developers Croteam and Timelock Studio, nor publisher Devolver Digital, have officially announced any console ports yet.
Serious Sam: Siberian Mayhem may be coming to PS5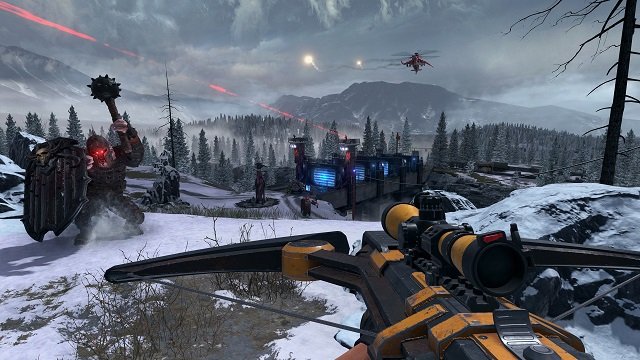 Serious Sam: Siberian Mayhem is a stand-alone expansion to Serious Sam 4, where Sam Stone battles the Notorious Mental and attempts to track down the traitorous General Brand through the decidedly chilly wild lands of Russia. The game includes five levels with new enemies, weapons, gadgets, and vehicles. There are also side missions to complete and secrets to uncover. Unsurprisingly for the franchise, the game has attracted a Mature 17+ rating from ESRB, as spotted by Reddit. The summary gives us more of an idea of what to expect from the game:
This is a first-person shooter in which players assume the role of Serious Sam as he battles alien forces in Siberia. Players use machine guns, shotguns, and rocket launchers to kill alien creatures and mutated humans in frenetic combat. Combat is accompanied by realistic gunfire, large explosions, and screams of pain. Large blood-splatter effects frequently appear as enemies are shot and killed. Some weapon attacks cause enemies to explode into large chunks of flesh that remain on the battlefield. One female creature is depicted with exposed breasts covered with pasties. The words "fk" and "sh*t" are heard in the game.
The appearance of Serious Sam 4 on consoles was leaked in a similar way to this, so hopefully, we'll get an official announcement soon.
In other news, one of the mocap actors for Kratos in God of War on PS4 suggested his own moveset for the character. Elsewhere, GTA Online was due to get a Cops 'n' Crooks mode but it was delayed indefinitely due to real-life events.