Stray Update 1.03 was released today, August 4, for PS5 and PS4. While the update doesn't add any new features, it does fix some of the more irritating bugs players have been finding, including the cat's irritating ability to fall through the world. Along the same lines, the cat can no longer go out of bounds when jumping on certain objects.
Stray Update 1.03 Patch Notes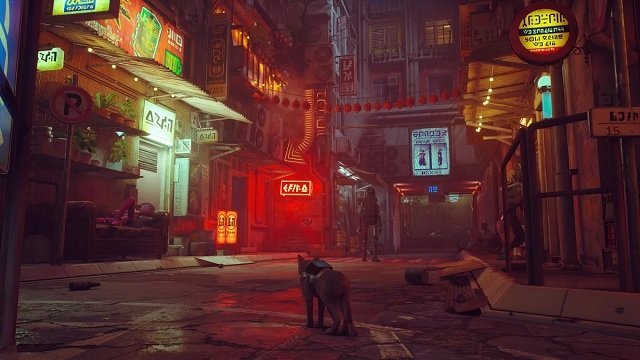 Update 1.03 also fixes a progress blocker in Stray where the cat would get stuck after handing the tracker to Seamus. Despite trying to stop players from falling through the world, developer Bluetwelve did say they had tried to preserve as many of the speed runner skips as they could without jeopardizing the game's integrity, which should make that sub-two-hour run a little bit easier. You can find a list of all of the gameplay improvements and bug fixes in the full patch notes below:
Various fixes for falling through the world (we've tried to preserve speed runner skips)
Additional fixes for GPU crash on boot issues
Fix for the cat going out of bounds when jumping on gutters
Fix for the cat going out of bounds when landing on barrels
Improve low FPS camera controls w/ keyboard and mouse
Fix getting stuck on giving Seamus the tracker
Fix being able to talk to mahjong players during the breakdown
Fix multiple issues around VR headset render context issues
Fix various Polish typos
Fix various French typos
and more!
PC players will find the patch has also been released there, although it is known as Update 3 on Steam.
In other news, a fan concept trailer for the original God of War game on Unreal Engine 5 looks impressive. Elsewhere, the first season of MultiVersus has been delayed, as has new character Morty, but this means the pre-season has been extended for another week.