The latest The Division 2 update arrived today, August 9, and while it doesn't trigger the start of Season 10, title update 15.4 does start off the Street Activation Apparel Event. The event will be available to all players who own the Warlords of New York expansion and have completed the New York campaign.
What's in the Street Activation Apparel Event?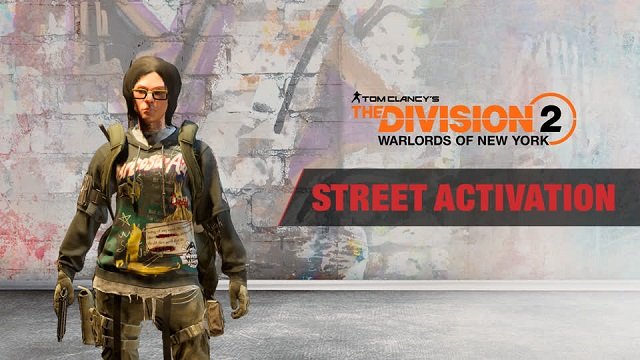 The Street Activation Apparel Event features 27 new apparel items to grab through Event Caches. These are six full cosmetic outfits — Carcosa, Encounter, Such Free, Smile, LED, and Lucky — as well as three masks and three backpacks. Players get a key to a cache for gaining four SHD levels or by purchasing them with Premium currency. Those who have purchased the Season 9 Pass will be gifted three keys too. Players will be able to earn keys until August 30, although they have until September 6 to spend them. Those missing items on September 6 will then be able to purchase them from the in-game store.
As well as starting the Street Activation Apparel Event, The Division 2 Title Update 15.4 has fixed a few issues with Manhunt as well as days 2, 3, and 4 being locked in the Reanimated Global Event. You can read the full Title Update 15.4 patch notes below:
PC STABILITY ISSUES
Improved stability: fixed the most predominant client crash. We continue working on optimizing the game on PC.
MANHUNT
Fixed the issue with the climax mission progression halting after the first wave of NPCs.
Fixed the issue with Captain Lewis not spawning if the first wave of NPSs is eliminated too fast.
Killing Private Connor too fast will no longer halt the progress of the mission.
Fixed the issue with two Agent Kelso's being present in the Base of Operations basement if player completes the "Prime Target" mission without turning in all decryption keys.
GLOBAL EVENT
Fixed the issue with days 2, 3 and 4 being locked in the Reanimated Global Event.
BLUEPRINTS
Fixed the issue with the Season 9 Exotic blueprints missing the "Items required" requirement.
Fixed the issue with the reconfigure blueprints for the three new Exotics being listed at the bottom of the list: the blueprints for the newest items should appear at the top part of the list now.
EXPERTISE
Fixed the issue with the 0/0 Exotic Components upgrade requirement needing one Exotic Component for upgrade of Gear Expertise levels.
UI & LOCALIZATION
Fixed incorrect translation from Spanish.
Fixed minor UI issues.
OTHER
Fixed the issue with the Raid checkpoint system not working as designed even though the alert "Checkpoint reached" appeared after the boss is eliminated.
In other news, Take-Two Interactive has promised GTA 6 will set creative benchmarks. Elsewhere, a renowned leaker has teased a new Alone In The Dark game.