Teenage Mutant Ninja Turtles: Shredder's Revenge is now available on PS4 and is currently garnering positive reviews from both critics and players. Those wondering what might be next for the game will be disappointed to find there are currently no plans to release any DLC for the game, including alternative costumes. However, publisher DotEmu has also said they "never said 'never'."
The likelihood of TMNT: Shredder's Revenge DLC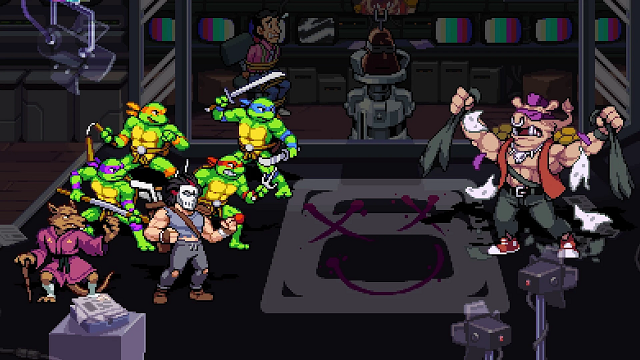 Developer Tribute Games didn't plan for alternative DLC costumes during the production of Teenage Mutant Ninja Turtles: Shredder's Revenge. The game's narrative designer Yannick Belzil told Xbox Expansion Pass that each turtle has its own bespoke moves and animations, which takes about a couple of months per character. Alternate costumes would take a lot of time and resources to create. He also added that if they were given those resources, they would be more likely to create a completely new character rather than alternate costumes.
Having said that, DotEmu wasn't so sure. In a follow-up to the interview, DotEmu CEO Cyrille Imbert clarified that doesn't mean there won't be any DLC planned for the future:
Some clarification here: There won't be alternative costumes at launch and we don't have DLC plans so far, but we never said "never." It will depend on many factors like the game's reception and the ideas/feedback that the awesome community will send us.
Fans have already started suggesting ideas like color swaps, and the game seems to be garnering plenty of positive feedback. Our own review called the game "a love letter to a time of arcade fun" and "a masterclass of nostalgia and new-age delight". Only time will tell if this is enough for the game to get DLC in the future.
In other news, the PS Plus Extra game catalog has been sorted by average review score for those wanting a rough idea of what they're letting themselves in for. Elsewhere, Sonic Frontiers' Open Zone will take roughly 20-30 hours to complete.