With all the Silent Hill rumors making rounds, Blue Box Game Studios' PS5-exclusive Abandoned has been thrust into the limelight once again, but for all the wrong reasons. The game's script has apparently been leaked on Reddit and corroborated by known insider Nick "Shpeshal_Bick" Baker, and it's precisely what one would expect from a project that comes across as someone's high school homework.
Abandoned PS5 has been accused of being a scam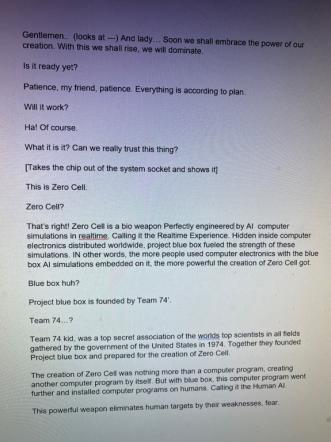 The image of the script (above) isn't the best quality but good enough to make out what it says. It's a conversation between what I imagine to be some kind of an evil scientist and a group of people where the former is showing off a bioweapon called Zero Cell that'll be used to dominate humans.
Known modder Lance McDonald, who partook in sharing this script as well as some leaked assets from Abandoned, initially declared that the entire project is a scam. However, he has since released a joint statement with Blue Box head Hasan Kahraman that seems to imply that the studio willingly shared those "assets" with a group of fans, who then pass them on without context. Apparently, the assets comprise of "jokes, rough drafts," and things that aren't going to be part of the final product, if it ever sees the light of day.
Earlier today I drew attention to a leak of some assets from Blue Box Studio's "Abandoned" (seen here: https://t.co/MABnc53DH5). Soon after, Hasan, the developer of Abandoned, reached out to me and we worked together on this statement about the leak, which he asked me to publish: pic.twitter.com/eNYoBrKZUW

— Lance McDonald (@manfightdragon) May 17, 2023
Twitter users are now theorizing that McDonald has been threatened into releasing this statement. Make of this mess what you will. Perhaps, it would have made more sense to leave Blue Box to its devices.
In other news, Insomniac Games has reportedly taken issue with Sony's stance on abortion rights, and former Ubisoft devs claim the developer mishandled Price of Persia: The Sands of Time's remake.