Somewhat buried in the details, the Dead Island 2 Alexa Game Control feature will allow you to use your voice to control the game. In fact, Dead Island 2 will be the first title to have this built-in function. Looking through various entries for the game on Amazon yields few, if any, results for "Alexa Game Control" for some reason, but the page dedicated to the feature notes that more games after Dead Island 2 will use this new voice-activated system. So then, what is this?
Examples of how Alexa Game Control works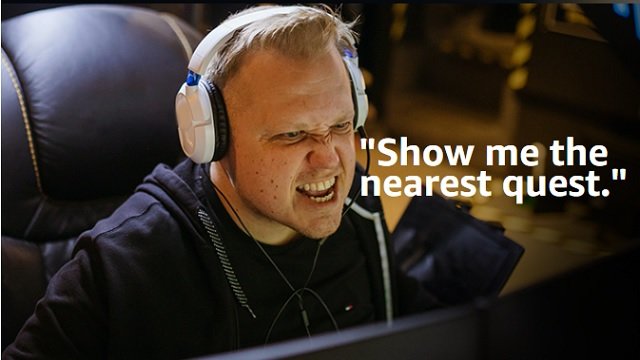 While Amazon doesn't have a specific breakdown of how Alexa Game Control works with Dead Island 2 on its website, it does have various examples of how you can use your voice in a game. First off, though, it's important to note that Alexa Game Control only works with PC and Xbox at the moment, with no word on if or when it will be compatible with PlayStation consoles. It's unclear why this is, given that the PS5 has voice commands too.
At any rate, the feature will allow you to use your voice, without requiring an Alexa device, to interact with NPCs, swap weapons, and ask the game to show you where the nearest quest is. The breadth of voice commands will depend on what the developer builds into the game. Part of the idea is that using your voice will lead to "fewer interruptions" and allow you to use vocal shortcuts, though using voice commands can be somewhat jarring in the first place.
Beyond that, you can have Alexa Game Control function like an actual Alexa device, allowing you control smart lights, set a timer, or even place a food order. You don't need to use a wake word to activate it, nor will you need a Prime membership. All that is required is that you have a compatible headset or microphone and follow the in-game instructions to activate Alexa Game Control. Once configured, you can set it to follow push-to-talk (PTT) commands or use Voice Activity (VA) that will enable it to detect your voice at all times. So far, Alexa Game Control is only available in English in North America, but Amazon plans to have these controls be compatible in more countries and in more languages in the future.
In other news, Hideo Kojima announced the Brain Structure podcast for Spotify, and the PS5 DualSense Edge, which is essentially the PlayStation's "Pro Controller," has been revealed.