Several Amazon listings have finally set a Dead Island 2 release date, along with a full item description on the game's features and the ability to pre-order the sequel for various platforms. While this date could be a placeholder, the Dead Island 2: Day One Edition is set to release on February 3, 2023 for PS5, PS4, and Xbox Series S|X. At the time of this writing, there is no Day One Edition listed for Xbox One, while the standard Dead Island 2 versions of the game for Xbox One and PS4 are marked "currently unavailable" and still have a placeholder release date of December 31, 2023. At any rate, let's just be thankful that the game will be coming out after eight years in development hell.
Dead Island 2's setting, plot, and character info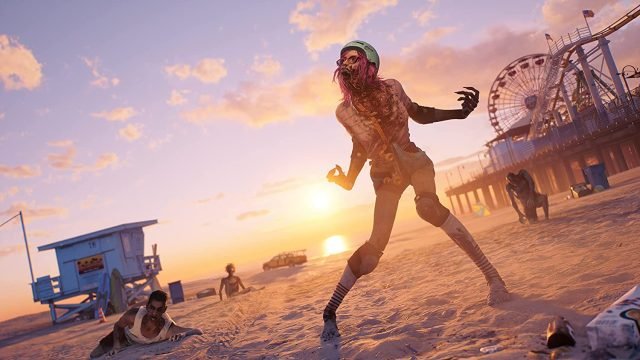 As revealed by the bulleted list of features on Amazon, Dead Island 2 will be set specifically in Los Angeles, and it seems that you won't be hopping around to other cities. Instead, it looks like you will hit various areas of LA like Beverly Hills and Venice Beach, clobbering the zombie horde in an "intense, visceral and gory first-person experience." There will also be "dozens" of distinct zombie types with "hundreds of LA-themed variants."
As for the roster of playable characters, you'll be able to choose among six Slayers, each with distinct personalities and dialogue. It's unclear if each Slayer has their own skill tree and abilities, but the skill system will allow you to re-spec your Slayer instantly so that you can easily test various builds.
The product description provides details on the story, with the zombie virus spreading across the quarantined city. The Slayers are infected as well, but they are not only resistant to the virus, but enhanced by it. There are multiple instances of the word "evolve" in the description, suggesting that the Slayers might be able to draw upon the strength of the virus to survive the undead apocalypse.
The Day 1 Edition will come with the Memories of Banoi Pack that comes with a few bonuses, including a Banoi War Club, a Memories of Banoi Baseball Bat, a Weapon Perk with what seems to be a "balanced" trait, and a Personal Space skill card. This hints that you might be able to learn or collect new skill cards throughout the game.
In other news, a leak on the New Tales From The Borderlands has revealed in-game cosmetics and currency, and a trophy list for the Prince of Persia: Sands of Time remake has appeared online.