Naughty Dog's Neil Druckmann has revealed new concept art for the upcoming The Last of Us multiplayer game in a letter to fans that celebrates 2023 as the tenth anniversary of the franchise. The concept art (pictured below) is a wide shot of two survivors walking through a dilapidated street, flanked by a rusted trailer to the left and a rundown building to the right. An enormous cruise shop looms in the background. The numerous palm trees adds more evidence that the TLoU multiplayer game will be set in San Francisco (or perhaps California in general).
Naughty Dog promises more The Last of Us multiplayer details "later this year"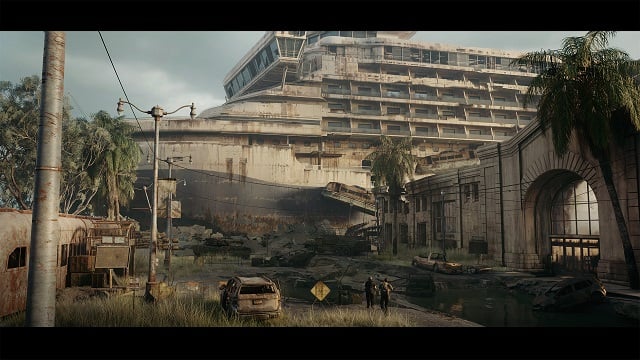 Paired with the first concept image for the game that Naughty Dog revealed in September 2023, the new shot reveals the potential for verticality to the rundown city. The large cruise ship reminds me of Rivet City from Fallout 3, a settlement that was created out of a decaying aircraft carrier. But it seems that this cruise ship is just sitting unused, from the outside at least.
Druckmann's letter promises that new details on this "ambitious" game will be given "later this year." It's still unclear what the game's release date might be, though Sony is banking on it to a "major part" of its live-service initiative.
Thus far, we have hints that the new The Last of Us multiplayer game might be free-to-play from a job listing. Naughty Dog has also hired Anders Howard, who designed the Battle Pass for Fortnite, so a similar system might find its way into the game. It will feature new characters and a full story, headed by Game Director Vinit Agarwal, Lead Designer Anthony Newman, and Narrative Designer Joe Pettinati.