Rumbleverse is due to launch on August 11, but the game has already spent periods of time in beta where players got to try out the game's 40-person solo mode. Developer Iron Galaxy had already confirmed Rumbleverse would be getting a Duos mode before launch, but now they've also revealed a Playground mode free-roam experience.
Introducing Rumbleverse Duos and Playground modes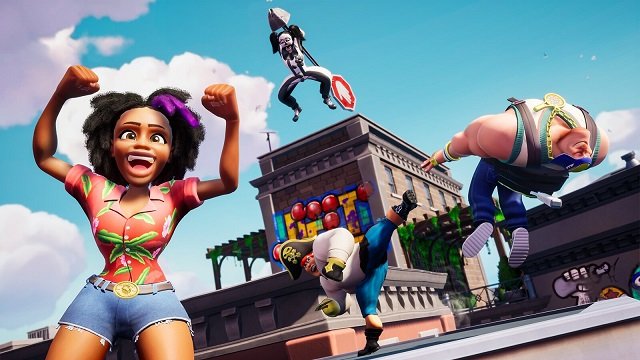 Rumbleverse's upcoming Duos mode is fairly self-explanatory according to PlayStation Blog: players join up with a teammate to be the last pair standing. There are a few modifications to characters, though, as there are only eight slots for stats, a smaller health bar, and no access to the Superstar Comeback system. Those who run out of health will be downed and can be helped to their feet by a teammate within 30 seconds. Every time that person is downed, the revive time is reduced. If a teammate is eliminated, the remaining player will get extra Max Health and Stat Slots to help with the imbalance. While there are the benefits of being able to protect each other, the downside is that the rewards are shared between the two players.
As well as the Solo and Duos modes, the Rumbleverse Playground mode is a free-roam experience where players can explore Grapital City and find training modules within different neighborhoods. There are eight topic locations with a "huge variety" of lessons to read. High-tech robots are available for sparring practice too, or you can bring a friend. Players won't be teamed up in playground mode, leaving them free to battle one another. Those who are eliminated can easily respawn nearby. Finally, Equip Up zones allow players to try out the game's weapons, consumables, and special moves.
In other news, Take-Two Interactive has eight iterations of previously released titles in development. Elsewhere, today's The Division 2 update kicked off the Street Activation Apparel event.