Stray is due to be released next week on PS4 and PS5, and fans of the game with a pet cat may be interested in finding the game has teamed up with Travel Cat to create a small range of Stray-themed pet accessories. Both the cat carrier backpack and the harness and leash set can be pre-ordered right now, although they're not due to ship until August or September.
Stray x Travel Cat limited edition accessories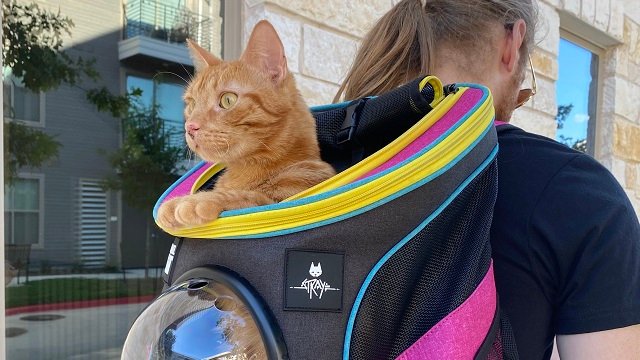 Two limited edition accessories are available through the Stray x Travel Cat collaboration. The first is a cat carrier backpack that can handle a cat weighing up to 25lbs (11.3 kg). Alternatively, the carrier can also be used for small dogs or other small animals like rabbits and ferrets. This version of Travel Cat's "The Fat Cat" backpack has neon yellow, pink, and charcoal coloring inspired by the game and comes with a bubble window and screen attachment, the former allowing the cat to look out while the latter gives more privacy. There's also a clip and bungee that can be connected to a harness to give the cat more freedom.
The second accessory is a harness that is a replica of the one worn by Stray's feline protagonist. The black harness, which comes in small, medium, and large sizes, adjusts at the neck and chest and fastens with buckles and velcro. The harness comes with a 6ft (1.8m) leash too. Despite the images, neither of the accessories come with a cat included, nor do they come with a robot companion. The items are available for pre-order right now, with the first batch shipping on August 31, 2023. The second and final batch will start shipping on September 21.
In other news, Final Fantasy 16 has ditched turn-based combat in favor of becoming an action RPG to attract a younger audience. Elsewhere, the God of War Ragnarok resolution and framerate settings have been leaked.