Nacon has announced the formation of a new Italian studio. Nacon Studio Milan will include RIMS Racing developer RaceWard Studio as well as a second team working on "a survival game based on one of the world's most popular film franchises", believed to be the Terminator movies. The team is expanding as a result of the new project.
What we know about the Terminator survival game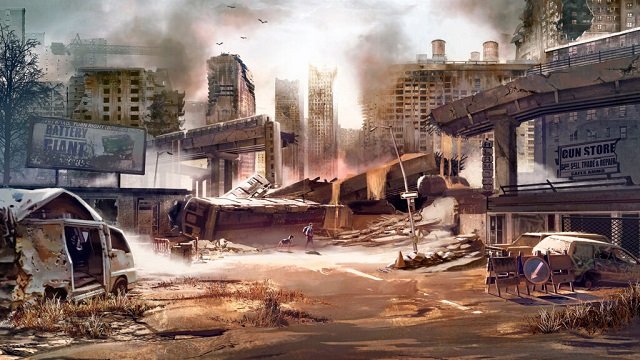 The second Nacon Studio Milan team will be responsible for action/adventure games. Their first project is a survival game based on a "worldwide famous film license." The studio's website features two concept art images taken from the new game. The above image clearly features a Gun Store with the Alamo Sport Shop sign. This is the shop that is featured in The Terminator movie, where T-800 Terminator acquired his weapons before setting off to kill Sarah Connor. However, the other image shows an abandoned train station called City Hall, a location that doesn't feature in the movies or in the real-life city of Los Angeles, where the Terminator movies are based.
The game will be officially announced later this year. For now, the team is recruiting for quite a few different positions within the studio. The listings give very little away, although they are looking for a Combat Designer that includes both melee and shooting combat that will affect "heroes, villains, creatures, and vehicles". There are also a few Programmer listings for a "brand new experience" coming to both PC and console platforms. Meanwhile, RaceWard Studio will continue to concentrate on racing games, and "there is still the option to explore other game genres".
In other news, a brand new Mafia game is reportedly in development at Hangar 13 despite leadership changes at the studio. Elsewhere, Activision has blamed Call of Duty: Vanguard's poor sales purely on its World War II setting.