Madam Will See You Now
Credit cards are accepted, but cash is preferred.  [Rialto, California]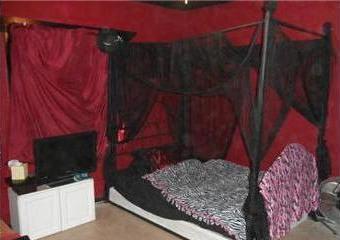 Gaudy Vegas Carpeting In Missouri
Thank you, Jon & Amber, for sending these photos of a Florissant, Missouri home.  The seller purchased it for $60,000, remodeled it as you will see, and listed it for sale at $125,000.  It is now priced at $110,000 and hasn't sold.  Hmmm.  Wonder why it hasn't sold.  Could it be the carpet???
If you want to see more hall of shame posts we have a perfect one for you.
The seller is a tiger in bed.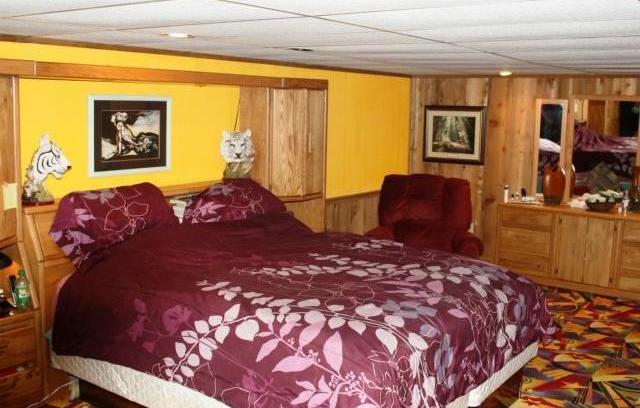 In true Vegas style, the master bedroom has a hot tub!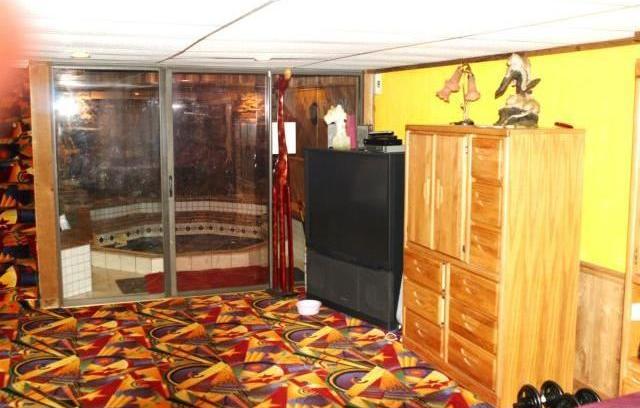 Water cascades down the stone wall into the hot tub.  Very romantic.  And damp.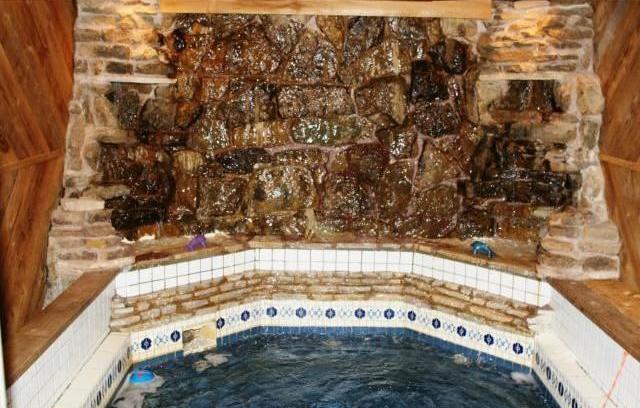 The living room is the first thing buyers will see.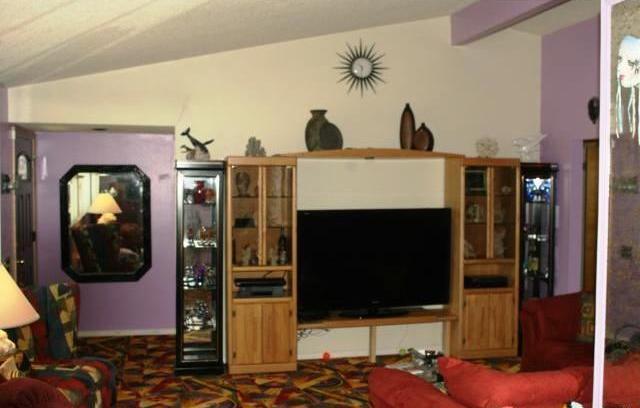 And then you see a tribal mask with googly eyes.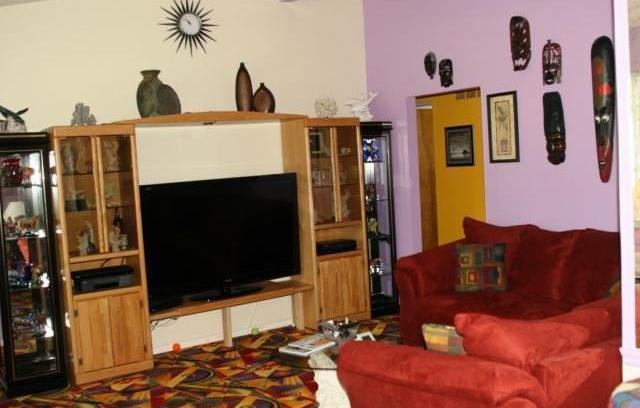 Even the chairs have crazy color patterns.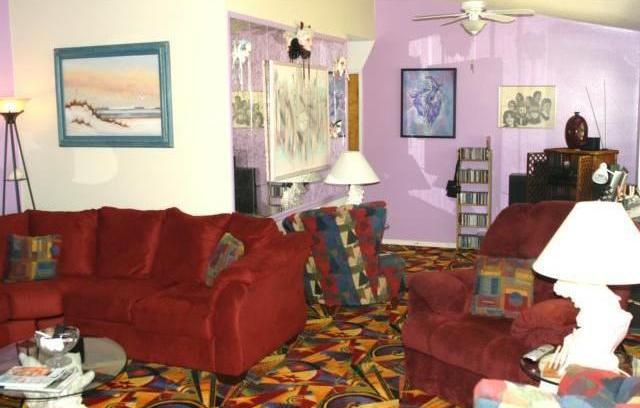 The sellers reduced their asking price by $15,000.  Here's a thought:  they could have spent $5,000 installing new carpeting, kept their original asking price, and been ahead $10,000.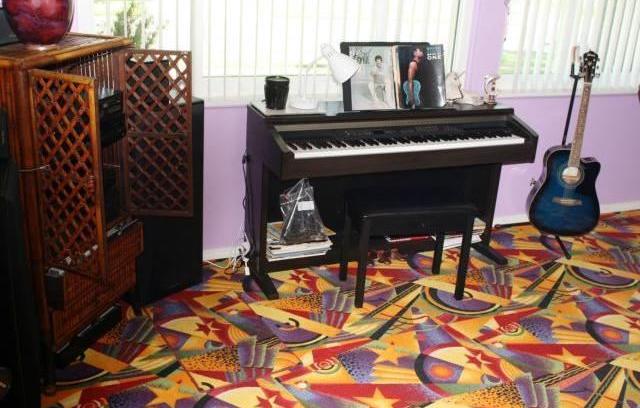 There's carpet on the walls of the wet bar!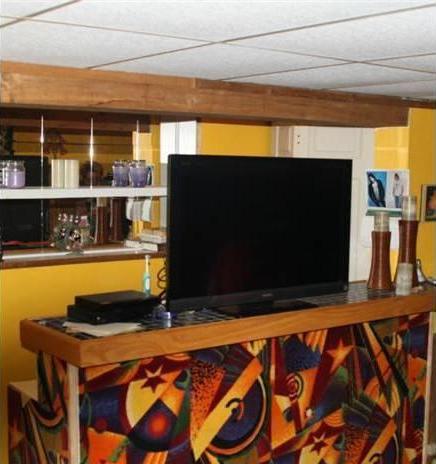 Who wants carpeting in a kitchen?  At least the crazy colors will help hide stains.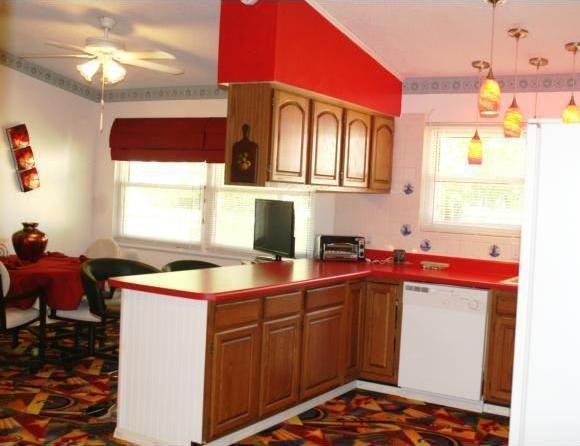 They remodeled the bathroom with a black toilet and black pedestal sink.  And carpet in the bathroom?  Yuk.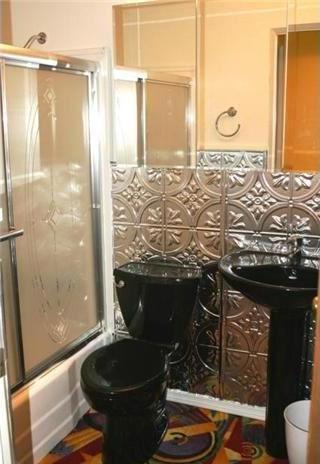 It's Not a Trick, It's a Treat
This delightful home in Penfield, New York was discovered by one of our readers.  We are eternally grateful.
Take it all in.  There's lots to see.  [Click on the photos to expand]
Let's start with the Raggedy Ann theme room.  Hundreds of dolls.  Plus a mannequin.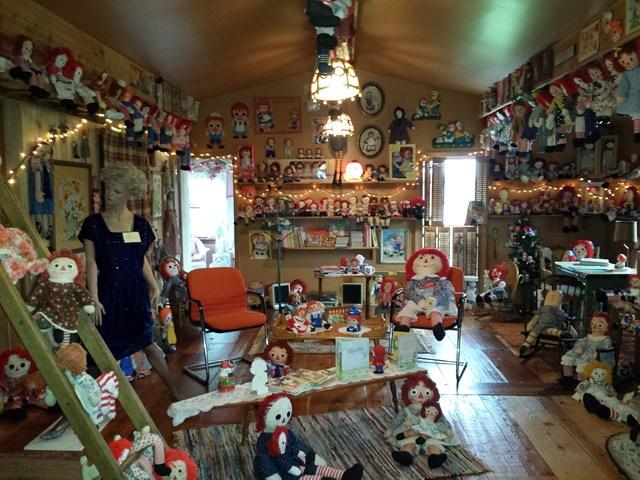 Grinch Who Stole Christmas mannequin!  Classic.  Plus Cabbage Patch dolls, Christmas dolls, and many more dolls.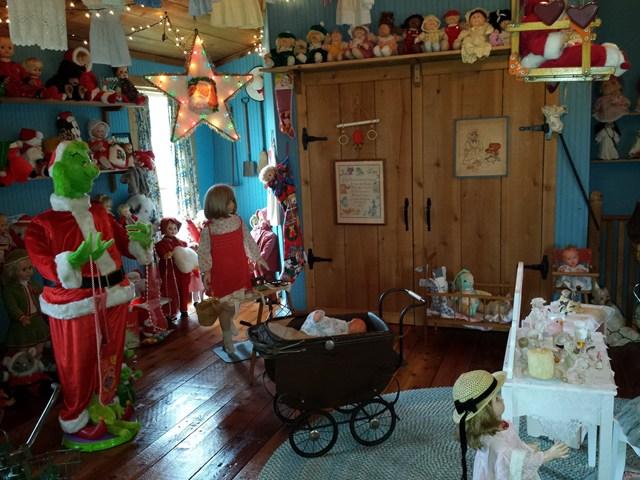 Doll clothes.  Halloween theme dolls.  More dolls.  Take notice of the mannequin in the foreground.  We'll explain in the next photo.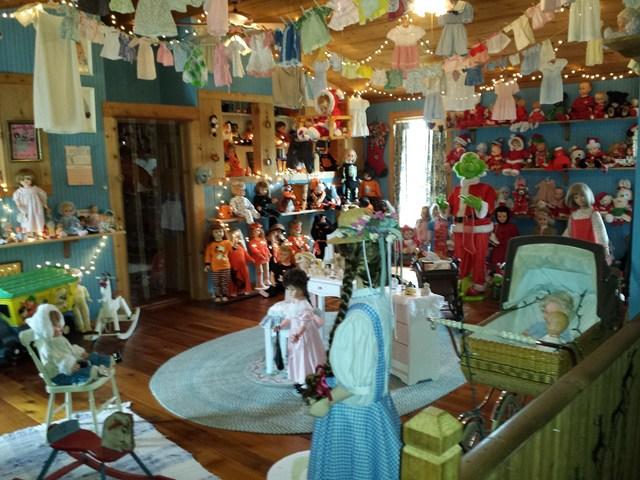 The mannequin is supposed to be Dorothy from The Wizard of Oz.  See her ruby slippers?!  There's also a collection of jugs on each stair riser.  We'll see more jugs on another staircase later.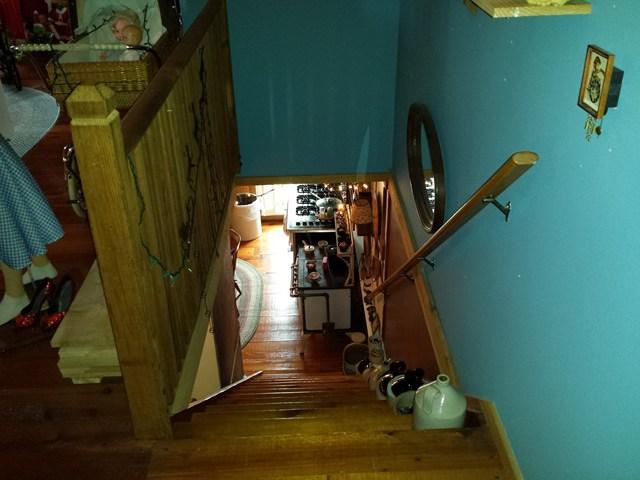 A bedroom filled with stuffed animals, jewelry, quilts, and more.  Now imagine this house totally empty.  The rafters in the ceiling.  The hardwood floors.  The vaulted ceilings.  This house is really nice.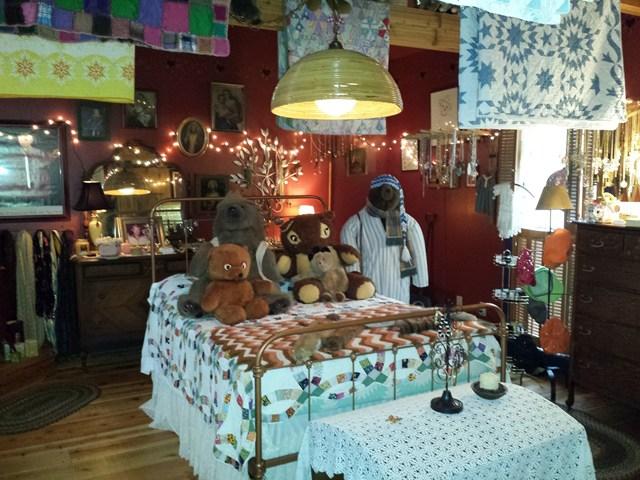 There's a lovely lady mannequin holding undergarments.  Notice the E.T. doll in the basket of toilet paper.  That's because he visited Uranus?  There's another E.T. doll on the shelf to the right.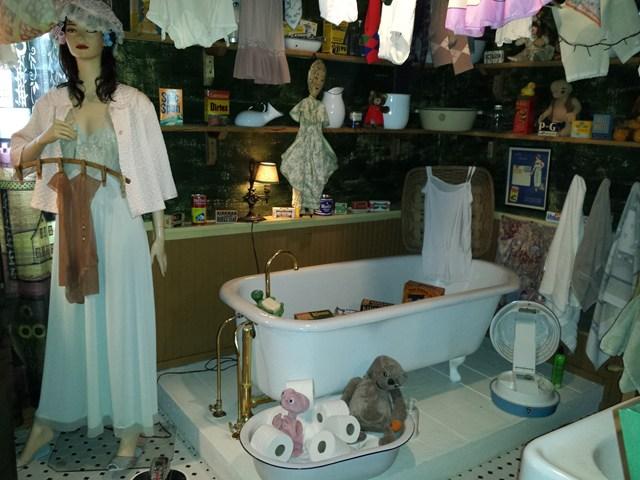 Another view of the bathroom.  We have proof that someone actually used the bathtub (photo on wall).  There's a bedpan on the wall too.  And the world's smallest plunger that's guaranteed to get your hands wet.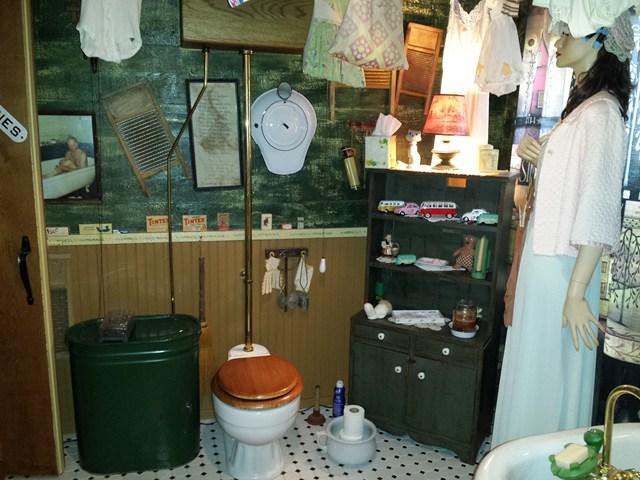 The kitchen has a sign that reads, "Two Choices:  1. Take it  2. Leave it"  There's a ghost hanging on the lamp (left side).  A black cat (right side).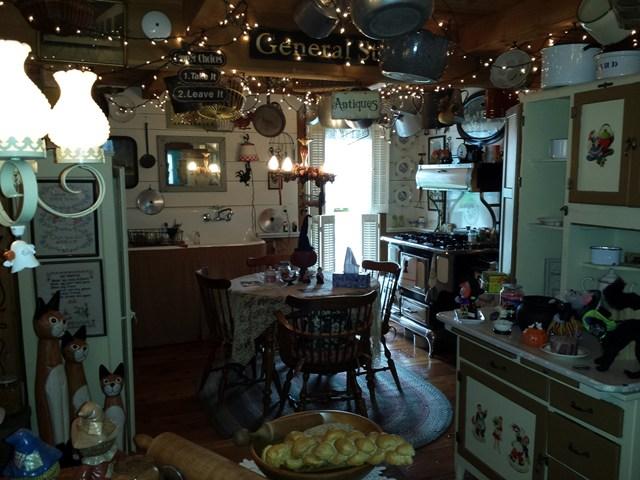 Another view of the kitchen.  So much to see.  The house was built in 1847.  This kitchen would be so cool once empty.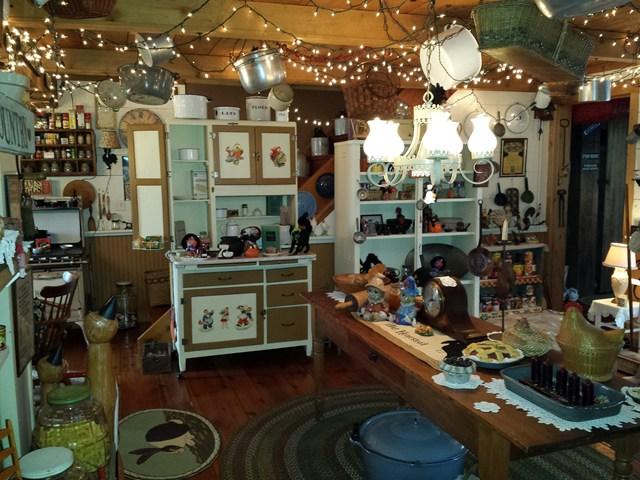 The dining room is managed by two mannequins.
We're halfway through the photos.  Much more to see.  Another mannequin!  And wearing the latest fashion.  Halloween decor.  More jugs.  More clutter.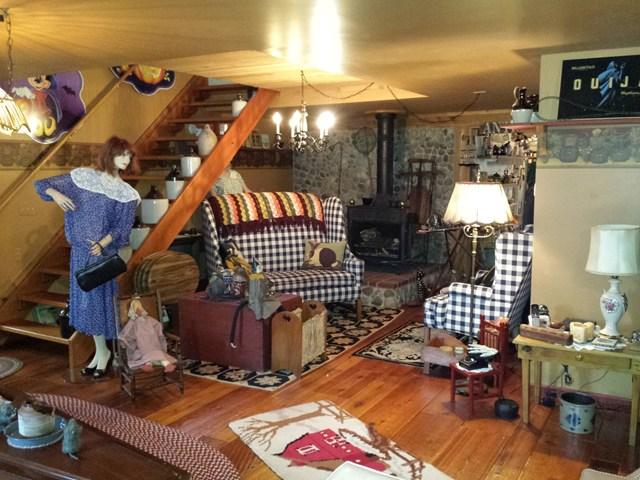 Looking to the side, we see another mannequin!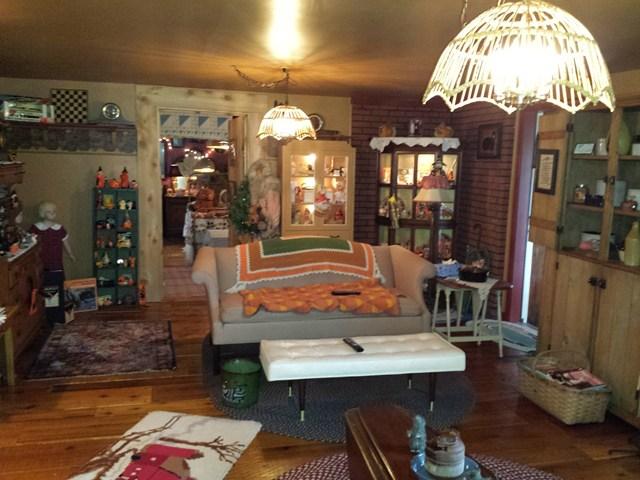 This is the Ladies Room, filled with pink flourishes.  Pink Christmas tree ornaments.  Tea is served at 4.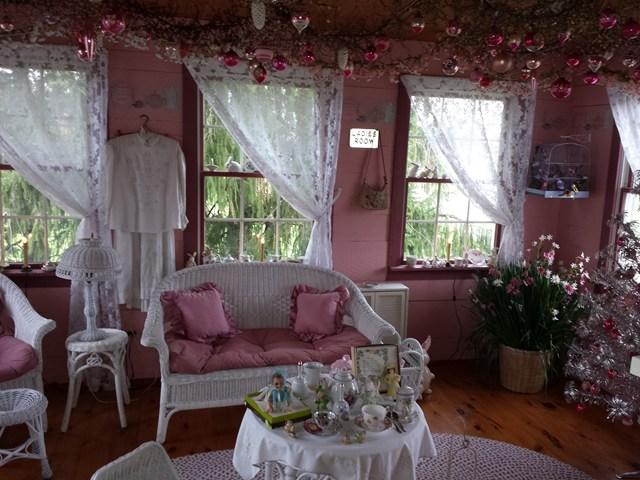 Looks like another tea set in another room.  And lots of dolls.  And another mannequin, this time holding a parasol.  Hats and clothes.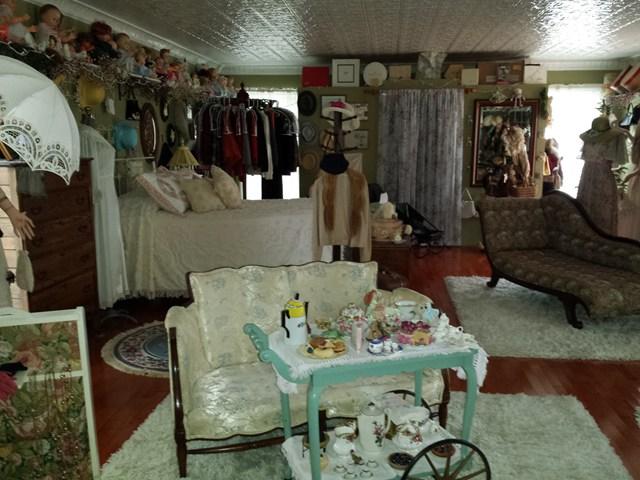 The other side of this room.  A mannequin sitting in a chair.  More dolls.  Christmas trees.  Now imagine this room empty.  The beautiful wood floors.  The fireplace.  The tin plate ceiling and crown molding.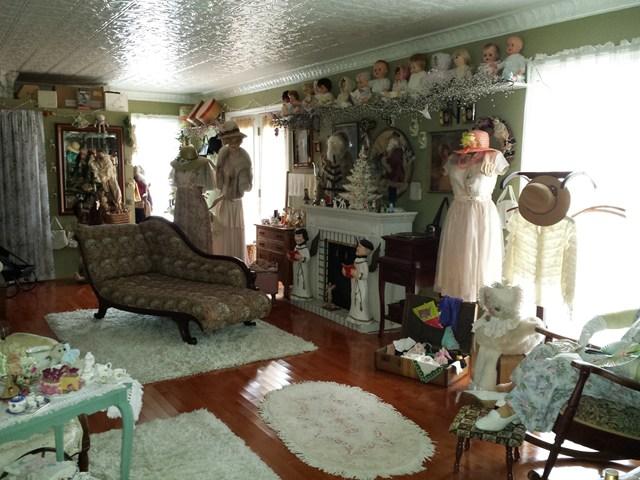 Another room filled with stuff.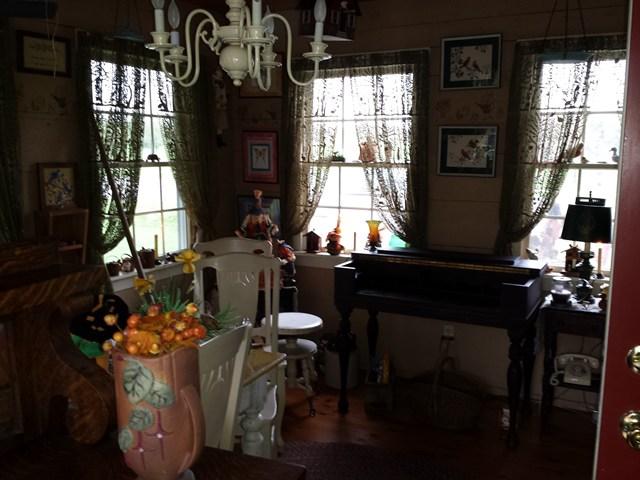 The kitchen.  No shortage of cups here.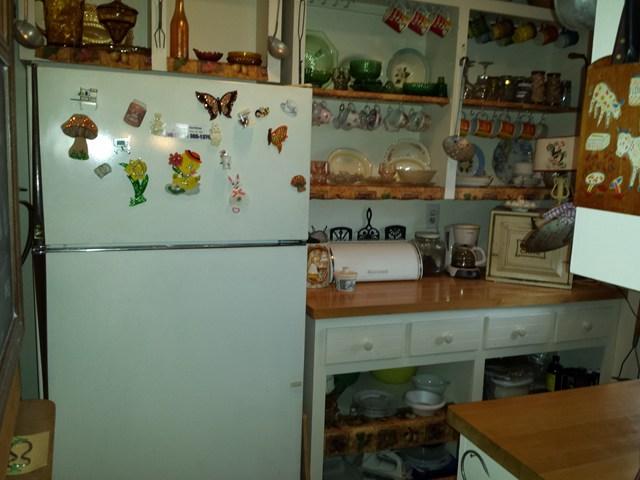 Halloween decorations out front.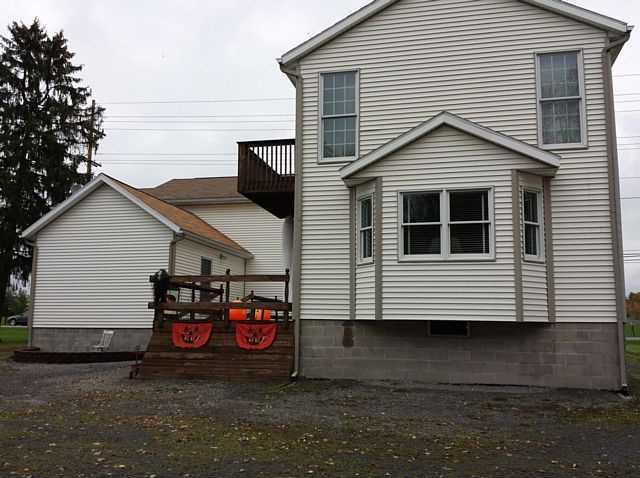 Scary Halloween decorations.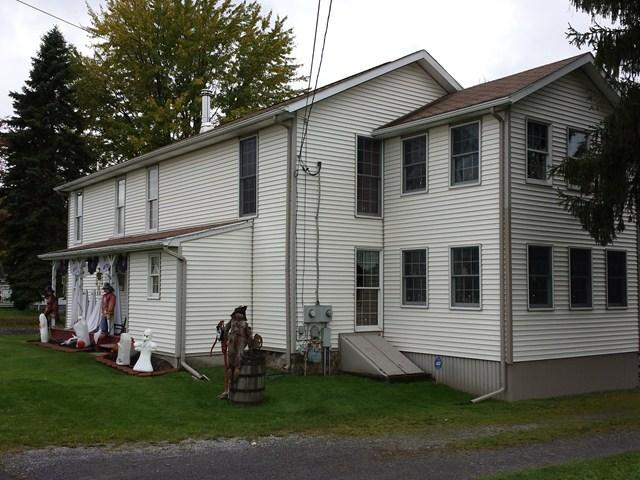 And no home is complete without a gnome.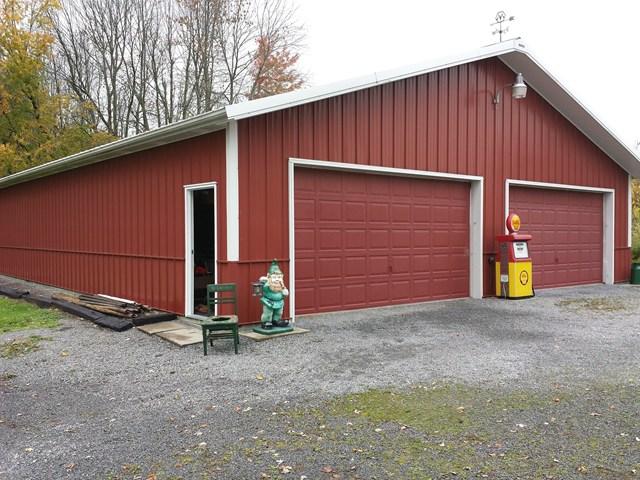 King of the Jungle
A few days ago, we posted a photo of a taxidermy hoard, with a polar bear and dozens of dead animals.
We have two more photos to share, thanks to Cory Chalmers of 1-800-Hoarders.com.  For anyone who's seen the Hoarders TV show (airing on Monday nights on A&E TV; season finale this Monday, February 4th), you'll recognize Cory as their clean-out expert.  Cory runs his own clean-up service Steri-Clean Inc. (aka 1-800-Hoarders).
At a recent cleaning job, Cory was surprised to see this in the bathroom.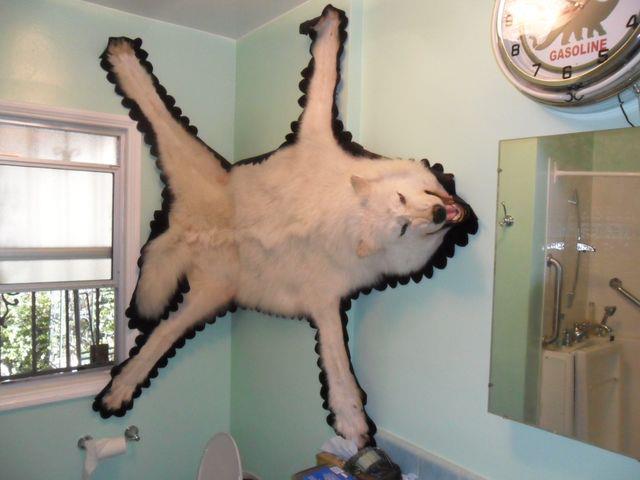 He also saw this hoard of dead animals in another room.  The owner put a crown on the lion; King of the Jungle.  And the owner is now officially King of the Idiots.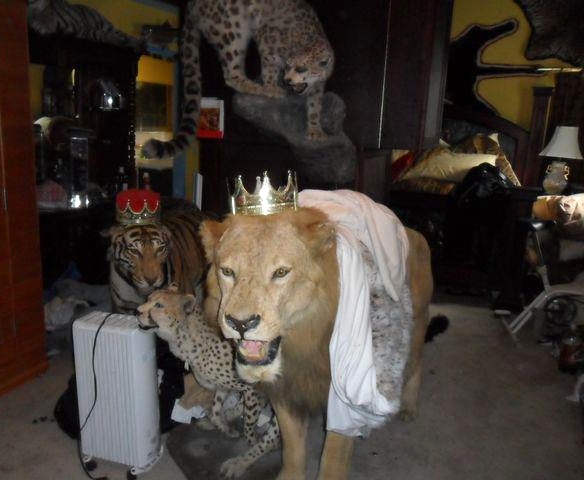 Ridiculous Window Coverings
Amateur home design with window coverings is getting out of control.  Drapes on top of drapes on top of drapes.  And then an extra pink curtain on top for dramatic effect.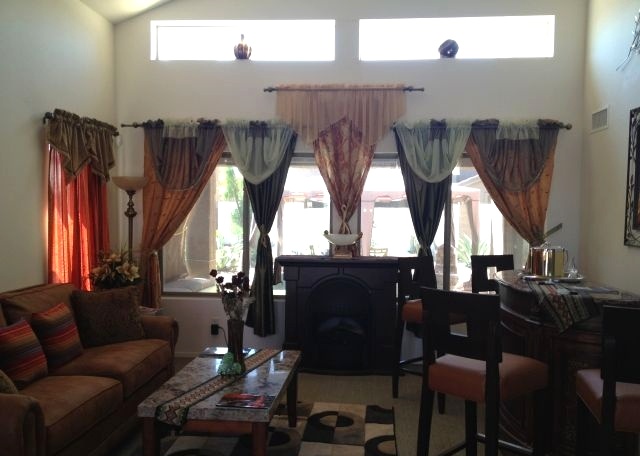 Same Surprise, Arizona home as above.  More drapes on top of drapes in the master bedroom.  If this is a design trend, make it stop.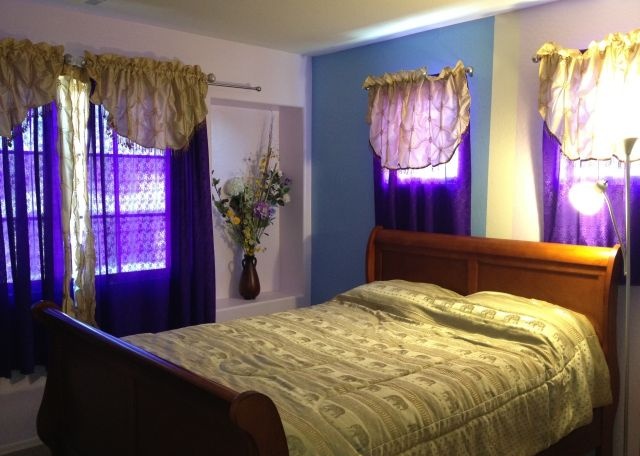 Oh, no.  More drapes on top of window blinds in an Apache Junction, Arizona home.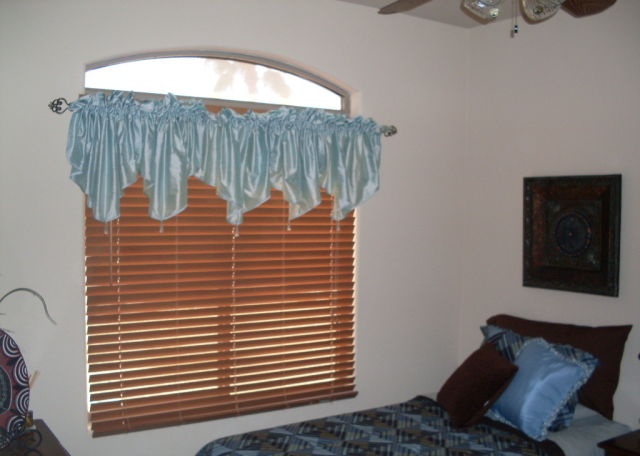 Oh, come on!  More??!!?!  [Mesa, Arizona]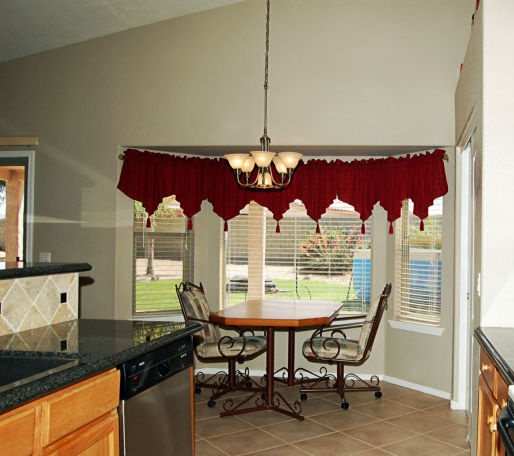 Thumbtacking a towel over a window in another Mesa home.
Why even bother putting up the drapes?  [another Mesa home]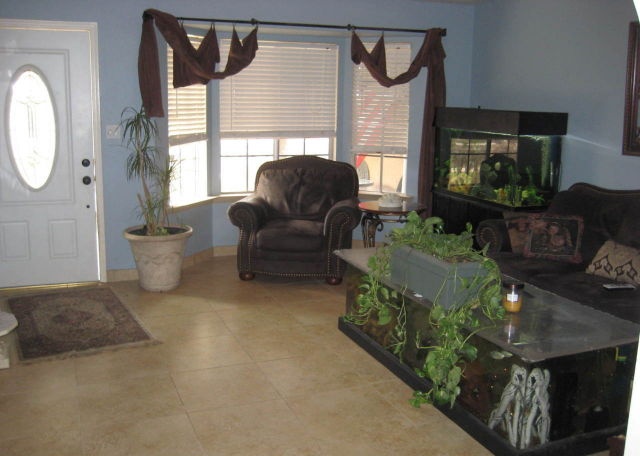 At a loss for words with this one.  [Avondale, Arizona]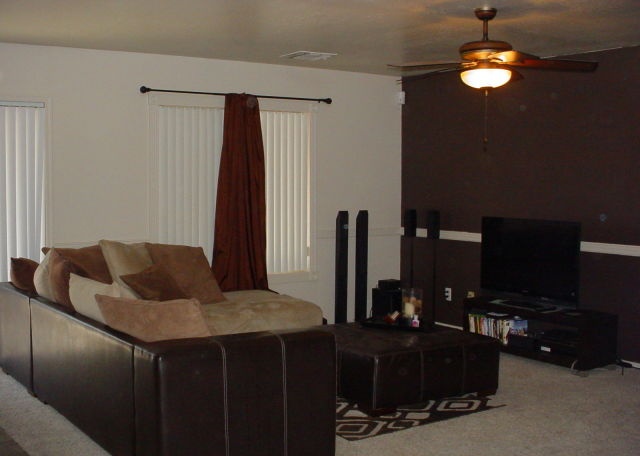 Overkill, Literally
Sure to tick off PETA, for sure.  Dozens of killed and stuffed animals in a Cave Creek, Arizona home, none of which seem to be part of regulated population control.  The photo's caption reads, "Trophy Room."  Trophy for what?  Biggest animal killer?  The dead polar bear is sure to upset some buyers.  They might tell the seller to get stuffed.  [click on photo to expand]  Thank you, Lori, for sending us this disturbing photo.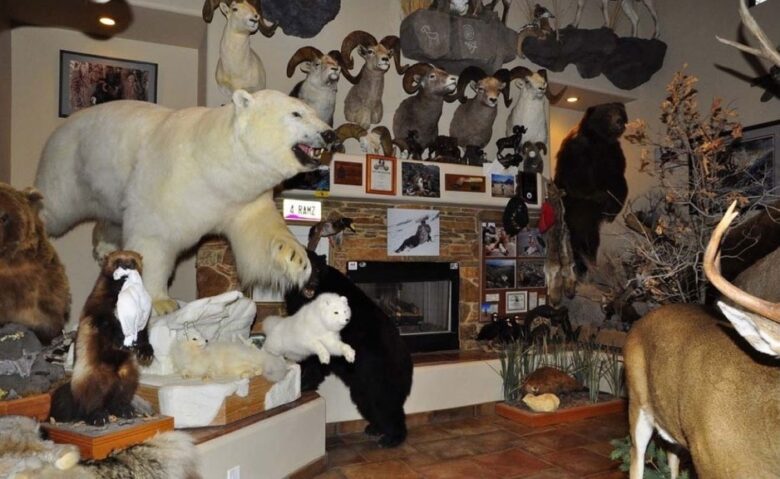 Curtain Call
People like to decorate with curtains.  Sometimes unsuccessfully.
Curtains on the back patio.  [Avondale, Arizona]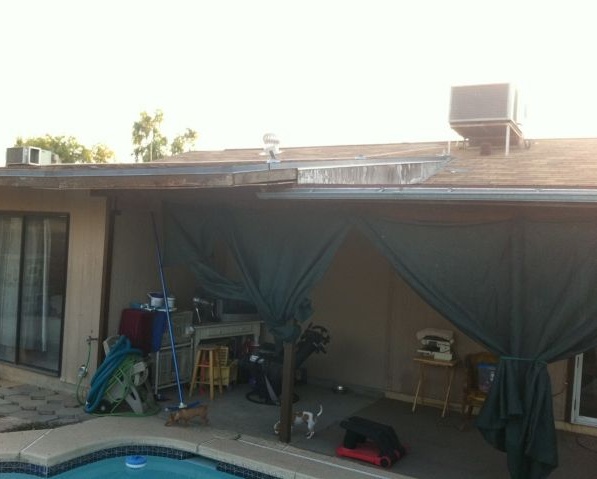 Double curtains separating an office or sitting room.  [El Mirage, Arizona]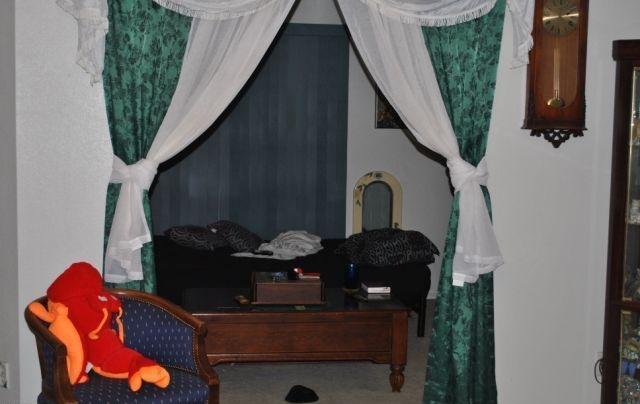 Black feather boa.  It's show time!  [Phoenix]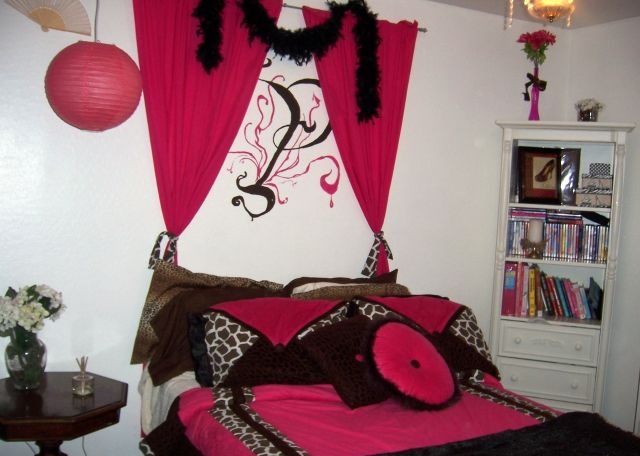 Curtain used between the kitchen and the family room.  Probably a huge pain in the neck.  [Phoenix]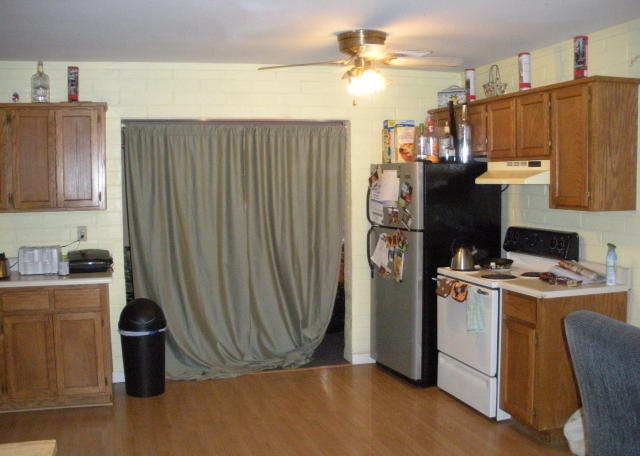 Green curtains in the bathroom.  [Cleveland, Ohio]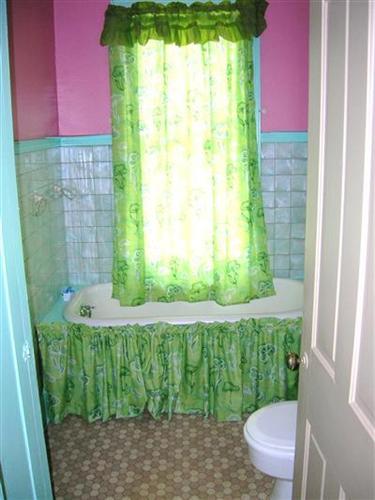 They must have a lot of mosquitoes in Texas.  [Burnet, Texas]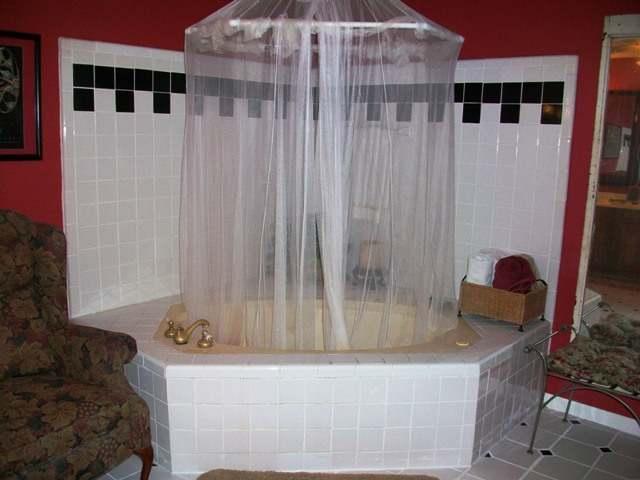 Patriotic Bed Display
Red, white, and blue.  What's not to love?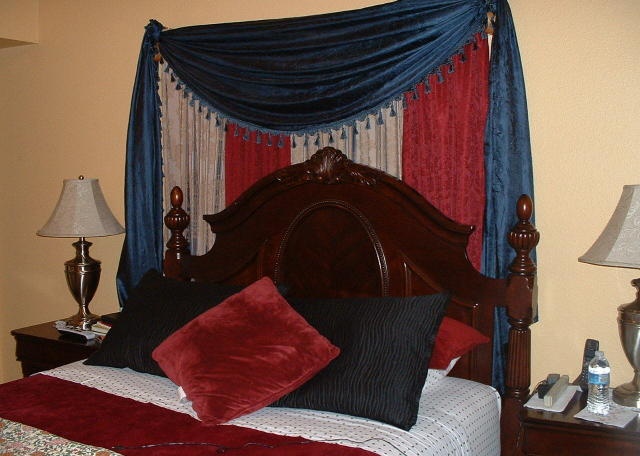 Two Thumbs Up!
Four men in real estate promotional photos.
Aaaaay!  It's the Fonz!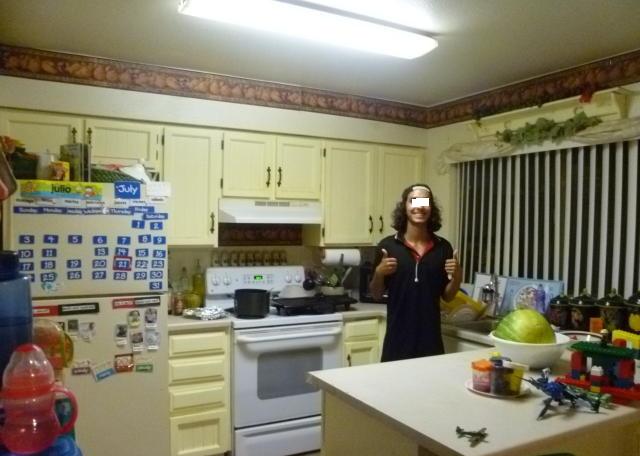 Practicing for his yoga class.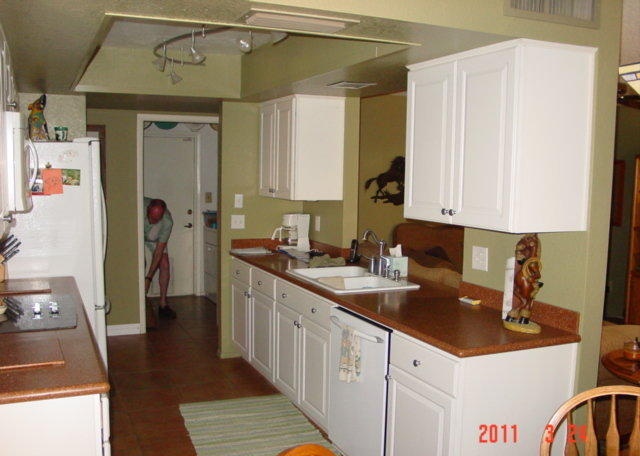 "Do you like my big back yard?"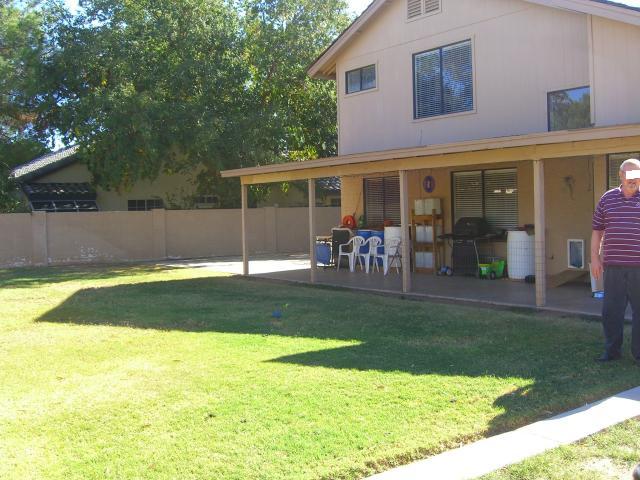 "I'm the hall monitor."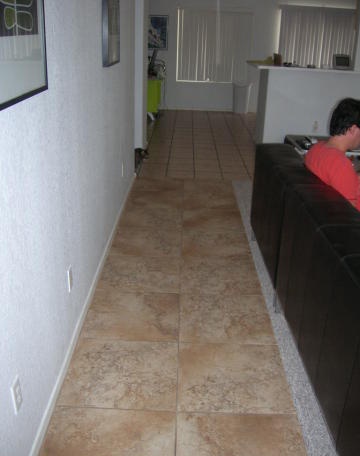 "Please be quiet.  My cat and I are trying to work."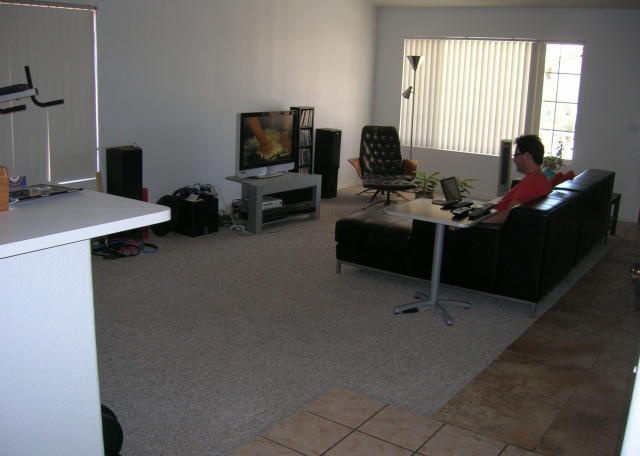 Houston Is Filled With Life & Culture
One of my friends has a high-powered job in Phoenix and is well respected.  He recently had dinner with a rich friend who asked him, "Why are you living in Phoenix?  There's no life there.  And no culture there."  He criticized Phoenix as a nothing city.  Nothing interesting. Boring.
Why would anyone live there?  He told my friend to move out of Phoenix as soon as possible.  He told others at the dinner table that anyone who lives in Phoenix is not a mover or a shaker.  No companies are headquartered in Phoenix.  He said people just lead boring lives in Phoenix.  And he ended his tirade with a question, "How can you be mentally stimulated in Phoenix?  There is no culture.  How do you find intelligent people?"
I guess I've got it all wrong for living in Phoenix.  I've been missing out for over 40 years.  Wasted my life here.  This pretentious snob, by the way, lives in Houston, Texas.
So let's see what Houston has to offer.  Like this Houston home that's currently for sale.  Looks like it's oozing with culture and life.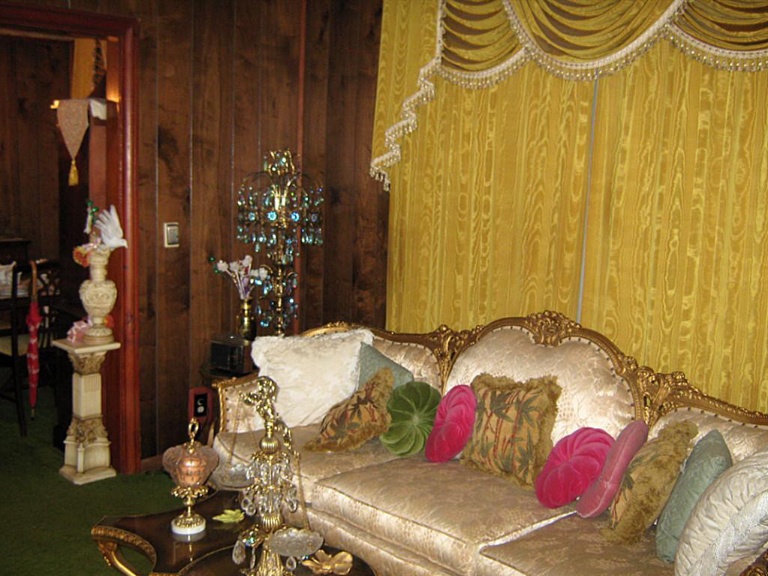 Just like the fans gracing the walls, I've become a fan of Houston.  I wanna be a mover and shaker in Houston too!!